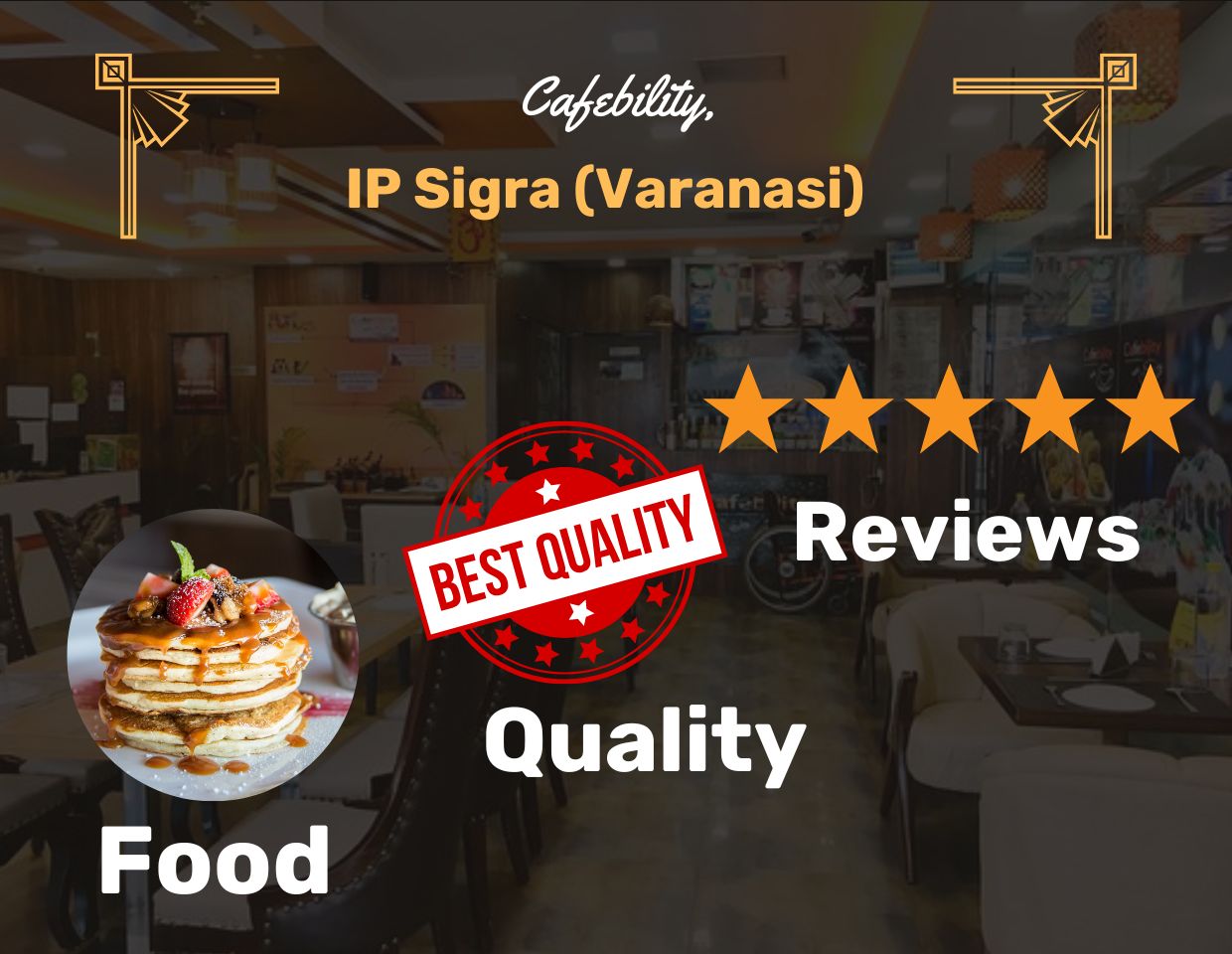 Varanasi / Banaras is not about only Street food & you will get to know this when your visit Cafebility. When there is a good cause behind doing anything that touches everyone's heart❤️ . Cafebility is the place which not only serves good food but also it gives you a reason to smile seeing some amazing special people working in the restaurant happily.
I recently visited Cafebility, IP Sigra and tasted their Bamboo Biryani, Signature Cheese Pizza, Cold & Hot Coffee.
To be honest, all the dishes served were very delicious. Although many reputed restaurants are already serving Bamboo Biryani but this is new for Varanasi & you will only be able to try this delicious Biryani in Cafebility. As the name suggests this is cooked inside a long Bamboo.
Bamboo Biryani 🍲 has long-grained rice cooked to perfection with authentic biryani. The finely cooked rice along with the veggies and the aroma of the bamboo 🎋 also gives an extra flavour to this special bamboo biryani.
Other than that I also ate Cheese Pizza 🍕 which is one of the signature pizzas of this restaurant. It was full of toppings like Capsicum, Onions, Tomatoes, Paneer, Jalapeno, Olives which made the taste heavenly. This fully loaded pizza is a worth try.
Last but not the least, Cold & Hot Coffee ☕ which goes well every time. This restaurant has a lot of variety in beverages, I tried mongo mojito, the flavour of mango along with the soda and lemon juice was really so refreshing. I have tried a lot of different types of mojitos but this one is a must try especially in this season if you get any beverages or food items related to mango flavour .
Concept:
Cafebility is basically a Cafe cum Restaurant that trains and offers job to unprivileged & physically handicapped people, which is really commendable. They also provide on-job training to such people. This made me feel very good & brought a smile on my face as the people working their are so humble and serves the food very quickly.
I am impressed with the thought because getting a job is nearly impossible for a physically handicapped or unprivileged person but places like Cafebility works as a ray of hope.
She is one of the staff members of Cafebility & you can see the confidence behind her smile. She makes good coffee & mocktails. This Restaurant has provided a respected life to many similar males & females.
Location & Connectivity :
Cafebility is located inside IP Mall, Sigra 📍 which is in the heart of city. You can easily reach here by public transport or your own vehicle. It will take only 5 mins to reach here from 🚂 Varanasi Junction railway station & 20 mins from Banaras Railway Station which is also known as 🚂 Manduadih Railway Station.
Cafebility Contact Details & Booking Option:
You can directly contact them via phone at 📱 7084111153 & 📱 7081791010. Additionally if you want to try their food then your can also order via Zomato, Swiggy or any other third party websites. You can also book this place for your special occasions.
I liked the hospitality, ambiance & food taste so I will recommend this place. To be honest, you will very good after being here as you will enjoy the delicious food along with supporting a Cause. 😃