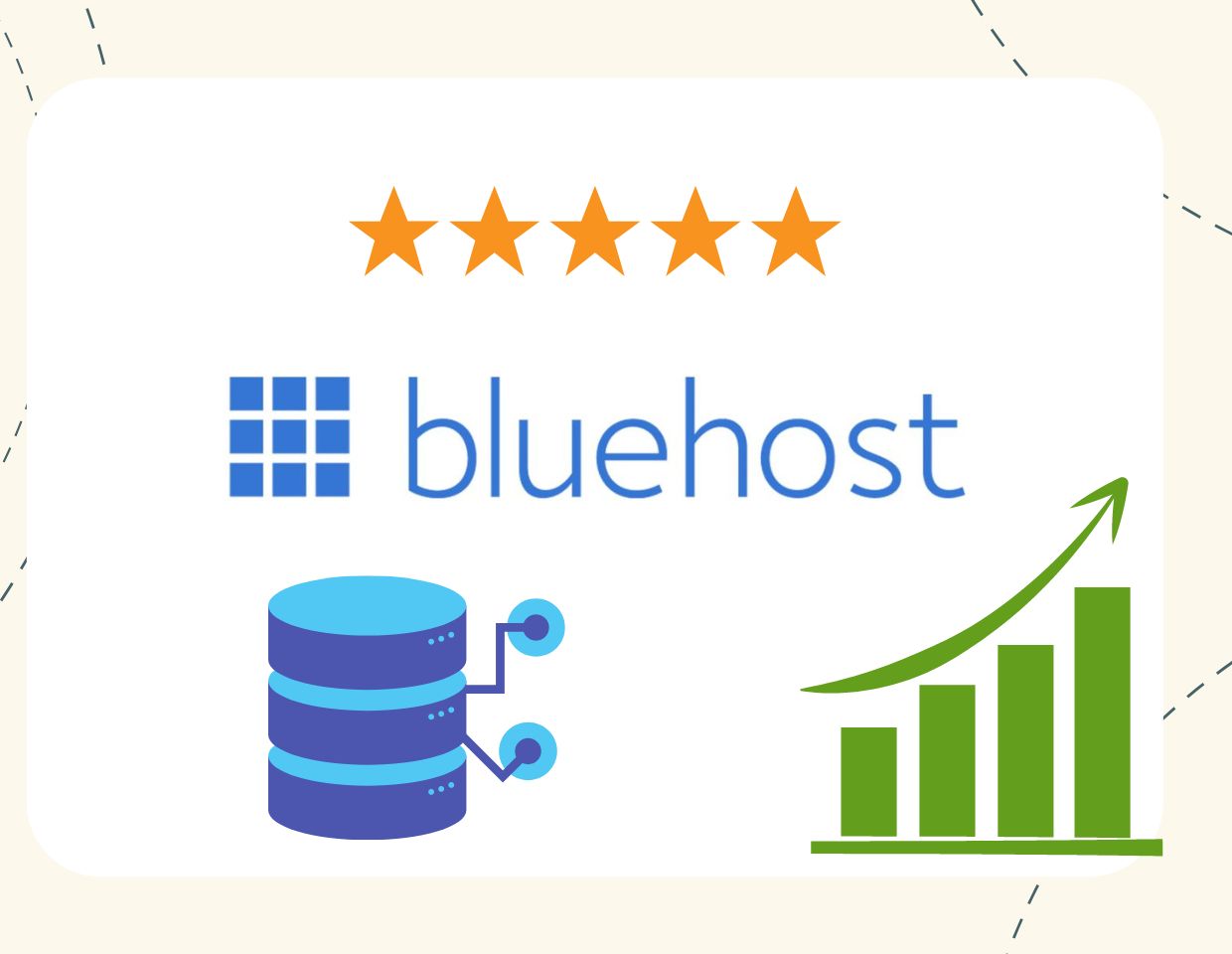 Looking for Bluehost Review?
Having good hosting for a website is one of the most important things I learn from my last 5 year of Blogging carrier. I started with one of the Biggest Hosting providers in world but after a month I started realizing hosting of that company is not worth of buying anymore, they attract customer by showing lots of ads and paid reviews.
Reading Review of hosting company before buying any product is the most important thing which I learned.
You are here meaning you are also looking for Bluehost Review. I started using Bluehost in 2018 and till the day I use BlueHost for my one of the site.
In this post I am going to share my personal experience of using Bluehost, what are pros and cons of Bluehost hosting.
How you can save a big amount of money for domain purchase, I will tell in this post.
If you are looking for an alternative then I will suggest going with siteground Hosting. One of the best Hosting providers in the world. I also offer Website setup and creation service for Business and people who are just starting their online carrier. You can check my service page.
Let's see a small recap of Bluehost Review:
Trust
Pricing
Up Time
Loading Speed
Free SSL
User Friendly
Customer Support
Site Migration
Renewal Rate
4.4
Summary
Bluehost is one of the best hosting provider. The price of Bluehost is very cheap as compared to other hosting provider. Also the downtime and speed of Bluehost is outstanding as compared to other hosting providers. Bluehost is also Recommended by WordPress it self which show the trust of big brands on Bluehost.Try Bluehost
It's good to have some basic idea about the company from which you are going to buy Hosting for your website. Bluehost is a web hosting company started in 1996.
Ohh, My God, at that time I was not even born.
Just a joke Part.
Do you know Bluehost is hosting more than 2 Million websites on their platform over the world. 2 Million is Big number, Many Company Never touch this Mark and Bluehost completed this number in 2020 starting only.
Bluehost offers many services which include Shared, Cloud, VPS, and Dedicated Servers. If you are just starting your business or blog then shared hosting will be the best option for you.
Business who have many visitors on their website can go for Dedicated servers.
So, without waste of time let's start our main topic.
Bluehost Review
We are going to divide our Bluehost Review into 2 parts. What we like about Bluehost and what we don't.
Things Which I Like About Bluehost
You Can find Small recap of Bluehost Shared Hosting review here below:
| | |
| --- | --- |
| Best For | BlueHost Shared Hosting |
| Speed | 405 ms (February 2018 to January 2020 average) |
| Uptime | 99.99% |
| Apps | WordPress, Joomla, Drupal etc. |
| Unlimited Plans | Bandwidth, Storage, Email account |
| Free | Domain Name for the First Year |
| Support | 24/7 |
| Chat Support | Available |
| Hosting Plans | Shared, Cloud, VPS, and Dedicated Servers |
| Starting from | 2.75$/Month |
| Site transfer | Not Free |
| Value for Money | Yes |
| Legit? | Yes |
| Recommended for | Who is Just Starting |
| Rating | 4 out of 5 |
#1. Bluehost Legit: Recommended By WordPress Itself
My website is maded using WordPress for Content Management. Almost 8/10 small website running on internet use WordPress.
You can use any hosting provider or company's hosting to run WordPress. But WordPress itself recommends Bluehost hosting. Bluehost is the official partner of WordPress which show the trust in the company by big brands like WordPress.
Bluehost hosting has built-in Panel which is well optimized for WordPress. The best thing which I liked about Bluehost is they are well optimized and have very good bandwidth for extra traffic load without any downtime.
Bluehost is also come with built-in cache feature help to load website fast as compare to other hosting providers.
#2. Pricing: Cheapest Hosting Provider
What first thing which you look before buying any Hosting?
Price?
If yes, then let me tell you Bluehost is Cheapest Hosting provider in the market. The Pricing of Bluehost start from 2.95$/ Month if you use my link for buying.
Bluehost has 4 Type of Hosting plans which you can buy for your website.
Almost all Hosting provider Charge extra money for domain name and SSL but Bluehost provides Free domain name and SSL with every purchase.
Plans
Basic
Plus
Choice Plus
Go pro
Website
1
Unlimited
Unlimited
website space
50 GB
unmetered
unmetered
Unlimited
Bandwidth
unmetered
unmetered
unmetered
unmetered
Performance
Standard
Standard
Standard
Standard
SSL Certificate
Free
Free
Free
Free
Include domain
1
1
1
1
parked domain
5
Unlimited
Unlimited
Unlimited
Sub domain
25
Unlimited
Unlimited
Unlimited
email account
5
Unlimited
Unlimited
Unlimited
email storage
100 MB per account
Unlimited
Unlimited
Unlimited
Marketing offers
200
200
200
Extras
Domain Name
Website Builder
Free domain.
Free website builder.
1 Spam Experts.
Free domain.
Free website builder.
1 Spam Experts.
1 Domain Privacy. 1 Site Backup Pro.
Free domain.
Free website builder.
2 Spam Experts.
1 Domain Privacy.
1 Site Backup Pro.
Dedicated IP.
Domain Privacy.
Regular Price
7.99 $/Month
10.99$/ Month
14.99$/Month
23.99$/month
Price if you use my link
2.95$/Month
4.95$/Month
5.45$/month
13.95$/month
As you see the price of blue hosting is very less as compared to any hosting provider if you are just starting.
Below I have shared which plan is suitable for you from the above table.
Basic Plan: If you are just starting than the Basic plan is best for you.
Plus Plan: This plan is suitable for those people who have multiple websites.
Choice plan: if you are looking for who is guard protection than you can go for a choice plan. You will also get a Backup pro feature in this plan.
Go Pro: this plan is for suitable for those people who have lost of traffic on the website.
I think now you have an idea of why Bluehost is recommended by Industry experts.
#3. 99.99% Up Time – Best In Market
In the starting of post I already said, the biggest issue which website owners face is with uptime.
Most of the hosting provider in the market say they will provide 0% of downtime. which is not the truth. I have a very bad experience with many market leaders.
If your website is down, the user will be not able to see your website. It is also not good for SEO. Constant Good time is one of the biggest key factors for your website success.
Bluehost is best when it comes to uptime they provide 99.99% of uptime. in fact, in the last 3 month, my website never went down because of Hosting.
You can see the state of my hosting for the last 180 Days blow in the image.
You can also see a comparison of downtime with other hosting providers in below table for last year.
| | | | |
| --- | --- | --- | --- |
| Host | Average | Best | Worst |
| Bluehost | 0.9994 | 100 | 0.8493 |
| StableHost | 0.9993 | 100 | 0.73 |
| Namecheap | 0.9993 | 100 | 0.92 |
| MDDHosting | 0.9988 | 100 | 0.6458 |
| Yahoo Small Business | 0.9985 | 100 | 0.8278 |
| InMotion Hosting | 0.9886 | 100 | |
| Site5 | 0.8881 | 100 | |
| DreamHost | 0.7093 | 100 | |
With data, we can say Bluehost is Clear Cut winner in hosting uptime in the market.
#4. Best Loading Speed: Most Important Factor
I think after downtime, speed is one of the most important factors in ranking and for user experience.
If your website is not loading in less than 5 seconds than it is not a good sign. According to google site having fast loading speed promoted high in search engine. A high ranking means High traffic which equals to Lots of money.
The Bluehost website load in less than 5 seconds. We have used a third party website to analysis the website speed which is hosted on Bluehost. As you can see My website is loading within a 1.13 second. You can ignore performance grade as I have a very dynamic page which consists of lots of CSS.
Inbuilt caching feature of Bluehost help to load website very fast. You don't need to use any other cache plugin to make your website fast.
#5. Free SSL: Best For Payment Accepting Sites
Google is very serious about user security and privacy. Therefore from 2018, google officially accepted that they give a ranking boost to the website which has SSL.
SSL certificate also helps to provide extra security if you accept payment directly from your website.
Bluehost offers free SSL certificate to their user with any plan. Most of the Hosting providers like GoDaddy charge extra money for providing SSL certificate.
Most people face issue while configuring SSL certificate for their website. Manual installing of SSL Certificate is not an easy task.
But Bluehost offers the straightforward direct feature of enabling SSL certificate for your domain.
If you are migrating your website from other hosting platforms than also Bluehost offer Free SSL certificate to you.
If you are looking for advance security or you have lots of customers who make payment directly from your website than Bluehost also offer premium SSL certificate in less than 50$ for a year. Believe me, this is the best investment which you will make for your website security.
#6. Super User Friendly
Bluehost Panel is super easy in use. You don't have to be a technical person to create your website.
Control panel of Bluehost comes with lots of options like one-click easy installation of basic application like WordPress, Weebly, Drupal etc.
Also, Bluehost have website builder where you can drag and drop many fields to create your website.
As 27% of the website using WordPress in the world, Bluehost is more focusing on WordPress and its feature. They are adding lots of option for WordPress which you can handle directly form control panel.
#7. 30 Days Money Back Guarantee
If you have any bad experience with hosting companies and you are afraid of using new hosting companies than Bluehost is best for you.
You can use Bluehost for 30 Days and after that, if you are not satisfied with the service of Bluehost than they will return your all money.
And the best part is no question will be asked.
But I am sure you will not ask for a refund after using Bluehost Service.
Caution: 15$ will be deducted for a free Domain name if you ask for a refund. Also, any request after 30 days will be rejected by Bluehost.
#8. Customer Support
Bluehost is serving hosting from last 20 years. Their built-in WordPress feature is super user friendly. There is a rarer chance that you will find any issue.
If you have any issue or query with Bluehost hosting, then you can resolve your issue with the help of Bluehost Customer support.
I will rate 4.5/5 for Bluehost customer support. Live chat option of Bluehost is very useful, it will help to resolve most of the issue instantly.
You can also get in touch with Bluehost customer care service via email ticket service or phone call. But I like live chat option.
The customer executive of Bluehost is super friendly. They help to resolve your technical issue even if you are not a technical person.
Things Which I Don't Like About Bluehost
#1. Site Migration Is Paid
I know almost all companies charge for migration. But we expect a little more from Bluehost. Bluehost service offers many free service but they ask for 149.99$ for website migration on their platform.
In 149.99$, they help you to migrate up to 5 website, 20 email accounts and other database files asked by the user.
None of the files will be missed and site functionality will be the same as previously, Bluehost claim on their website.
If you don't know how to migrate your file from one host to another than this will be the biggest Con which you are going to face.
I will recommend you to buy service from Fiver where you will get the same service at less price.
#2. High Renewal Rate
If you compare other hosting services also, you will find infect all Hosting providers take high renewal charges.
Bluehost also has slightly high Renewal charge.
You can avoid paying extra renewal charge by Buying hosting service for 3 years in starting only. You will get a basic plan in 3.95$ per month for the next 3 years.
Is Bluehost Worth It? Do We Recommend Bluehost?
Yes, Bluehost is worth of buying.
Bluehost offers such a Good service at lowest price which no one in the market offer.
In addition to this, they have almost 100% of High time with less than 3 seconds of website loading speed.
Bluehost is perfect for newbies. As they are not sure about what they need. Bluehost is a perfect investment in term of hosting I ever made.
I will also be recommended you to buy hosting now by clicking Below Button.
How To Buy Hosting From Bluehost?
Click on Link. It will redirect your official website of Bluehost. All the offers are directly applied when you use my link for buy.
Now click on get started button.
3. Now it will take you to the Pricing and plan page. Select any plan which you like. Now click on the select button.
4. Now you can choose a domain name if you want new. Else you can use your existing domain name by entering inbox.
6. Now on the next page, you have to enter some basic information for account creation. It will also show the final price which you need to pay for buying hosting from Bluehost.
7. After entering payment information click on submit button.
You will receive a payment confirmation on your mail.
Hola!!…you just bought Domain and hosting from Bluehost. Now you are ready to launch your first website using Bluehost.
Conclusion
Bluehost is one of the best Market leaders presents for hosting. We 101% recommended Bluehost hosting. A Bluehost data center is located in Provo, Utah USA which helps you load your website very fast.
The Built-in Caching feature makes Bluehost Very fast loading website. From last 10-year Bluehost maintain more than 99% of uptime. The advance security Like SSL and site lock is free for Bluehost users.
You can use the comment box if you are an existing user of Bluehost and want to share your Bluehost Review with others.
If you like my unbiased Bluehost Review than make sure you share this post on any one social media now.
Cheers!!