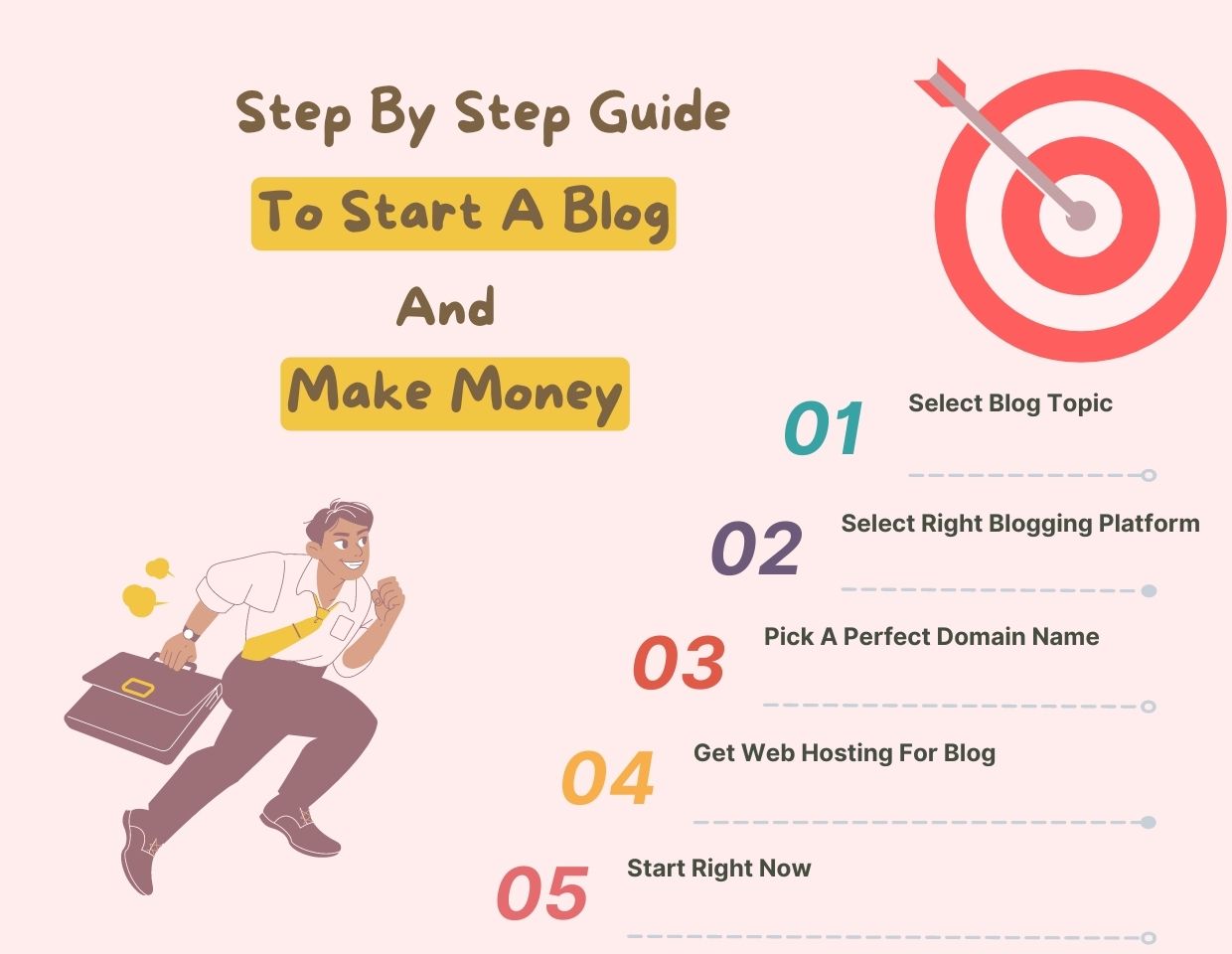 Today I'm going to tell you How to start a blog?
Not only I will help you start a blog from zero, but I will also help you to publish your first blog post.
Blogging will help you to follow your passion and make money at the same time. In 2nd year of engineering college i.e. 2015, I started my first blog.
At that time starting a blog, choosing the right Hosting for your blog is not easy task. it took more than 1 year to me learn basic of WordPress i.e. content management system for your blog.
After that, I started earning from my blog. Below is a screenshot of my AdSense account when my blog started getting some serious traffic.
You can write anything which you like about on your blog. You can also share things in which you are expert like cooking, Technology Stuff, teaching etc. and for this thing, you will get paid off.
Blogging will help you live life independently. You don't have to depend on your parents' money or fixed salary which come from your 9 – 5 job.
You can do choose Blogging as a full time as well as a part-time carrier. Blogging just needs a little amount of money to invest. You can start your blog by spending less than 3.95$ for a month.
I have shared your 11 Detailed Step to start your Blog to Make Money from Blogging.
I will advise you to dedicate your next 30 minutes of your life to this post. It can change your life forever.
#1 Step: Select Blog Topic
#2 Step: Select Right Blogging Platform for you
#3 Step: Pick a perfect Domain name for your blog
#4 Step: Get Web Hosting for your blog
#5 Step: Install WordPress on your blog
#6 Step: Choose Right theme for your Blog
#7 Step: Write your First Blog post
#8 Step: Adding Some Important Pages to your Blog
#9 Step: Setting Up Some Basic tools for Your Blog
#10 Step: Monetize Your Blog for Money
#11 Step: What next ?
But before Starting and educating you about starting a blog let me ask you one question:
Why Do You Want To Start A Blog?
There are multiple reasons for starting a blog. It is good to know your reason before starting a blog in advance.
Here is some common reason for starting a blog:
I want to Make Money from Blog
Want to educate others
I want to gain expertise in a particular niche and Build a confidence
Want to create an online community
Help business to grow online
Just want to write for Fun
The primary reason for starting a blog is money for many people. But if you are not serious about your blog and don't want to dedicate next 3-5 Month of your life to the blog than I think starting a blog is a bad idea for you. you can find other ways of making money online.
But if you want to earn some serious amount of money every month and want to become your boss than Just follow the next 11 steps to start your first blog online.
Step #1: Select Blog Topic
Choosing a niche (topic) for your blog is one of the most important factors. It will decide your interest and future of your blog.
You can't just write random stuff on your blog. This thing won't work nowadays. Google only prefer a website which is built on a single Topic.
Like you can find my blog having money related thing. Here I only write about Money making, saving Tips and stuff related to sharing market.
Confused?
Which Blog Topic you should choose?
Here are few tips which you should consider before choosing niche for your blog:
Always try to find a topic for which you are passionate about. You can write on that topic anytime, anywhere. Like I love writing about Passive income and money, that's why I started this blog.
If you are still confused about niche than you should check for which topic you love to read. Everyone likes at least one topic for which they can read a lot. They spend lots of time watching YouTube videos related to that's topic. You have to analysis yourself.
After deciding the Blog topic, make sure others are also interested in the same topic? Maybe you like and want to write about your local food. But many people don't like to read about that same local food online. Instead of Local food, you start Cooking Blog where you can share your Recipes. If you love to travel then go for a travel blog.
I think now you have decided which niche is more comfortable for you and you will start your blog on that topic only.
Conclusion: Choosing the right niche for your blog is the most important step your blog. It will decide your and your blog future in the long run. Starting and writing about random stuff on your blog won't work nowadays.
Step #2: Select Right Blogging Platform
Now you have decided on which topic you are going to write on your blog.
But wait, where you are going to write your Blog post? How you will publish your blog post?
Here comes the second step of choosing a Blogging platform.
You can start your website by writing Lots of HTML and CSS code or you can choose the Content Management System (CMS).
With the help of CMS, you can write and publish your blog post without writing a single line of programming code.
There are many blogging platforms available on the internet which are free to use. Some of them are:
WordPress
Joomla
Blogger
Tumbler
Drupal
But WordPress is one of the best and easy to use CMS software from the above list. Infect my website also hosted on WordPress.
WordPress is free open-source software. More than 35% of the world website is running on WordPress.
You can easily install WordPress on your blog with a single click. Most of the hosting have preinstalled WordPress application. I will teach you how to install and use WordPress in the upcoming section.
Step #3: Pick A Perfect Domain Name
A domain name is the web address for your blog which will be used instead of static IP address.
Sound, Technical?
A domain name is a URL which we use to address any website. You have to choose a domain name for your website also.
The domain name will be your online identity. So, make sure you choose the perfect domain name for your Blog.
Here are some quick hacks which you should check before choosing a domain name:
Short and simple
Easy to remember
Represent idea about your blog
For example, www.reviewsutra.com
It is very short and simple. Easy to remember the name. and it represents an idea about our blog. Domain availability is also one of the biggest challenges which you will face while choosing a domain name. Most of the unique and simple domain names are already booked.
Also make sure you don't use .org, .net extension for your domain name. this type of extensions is not easy to rank in google. you can use .com or local extension of a domain name like .in, .us etc. for your domain name.
If you use my Process for buying hosting then you will get a domain name free with that hosting.
Otherwise, you need to buy a domain name separately which will cost more than 15$ for the first year.
Step #4: Get Web Hosting For Blog
Now you have completed the First 3 most important step of starting a blog.
The next thing which you need to start a blog is hosting.
Hosting allows you to host your website online which can run 24/7 and can be accessed from anywhere.
Choosing a Right Hosting For your blog is another important step. If you pick any local or cheap hosting provider then chances of Slow website loading and Higher Down Time is High.
Bluehost is the best Hosting provider available in the market. We have already explained why Bluehost is the best hosting provider on the internet.
Bluehost pricing starts with 2.95$ per month. with Bluehost you will get the following offers:
Free Domain Name for the First year
SSL certificate for lifetime
Unlimited Bandwidth
Unlimited Storage
Live Chat Support (Best Support I ever get)
Easy to use cPanel
One-click installs WordPress option
30 days Money back guarantee.
Now Let's see How to buy Hosting from Bluehost:
Click on Link, it will redirect to the official website of WordPress.
Now click on the "Get Started Now" Button.