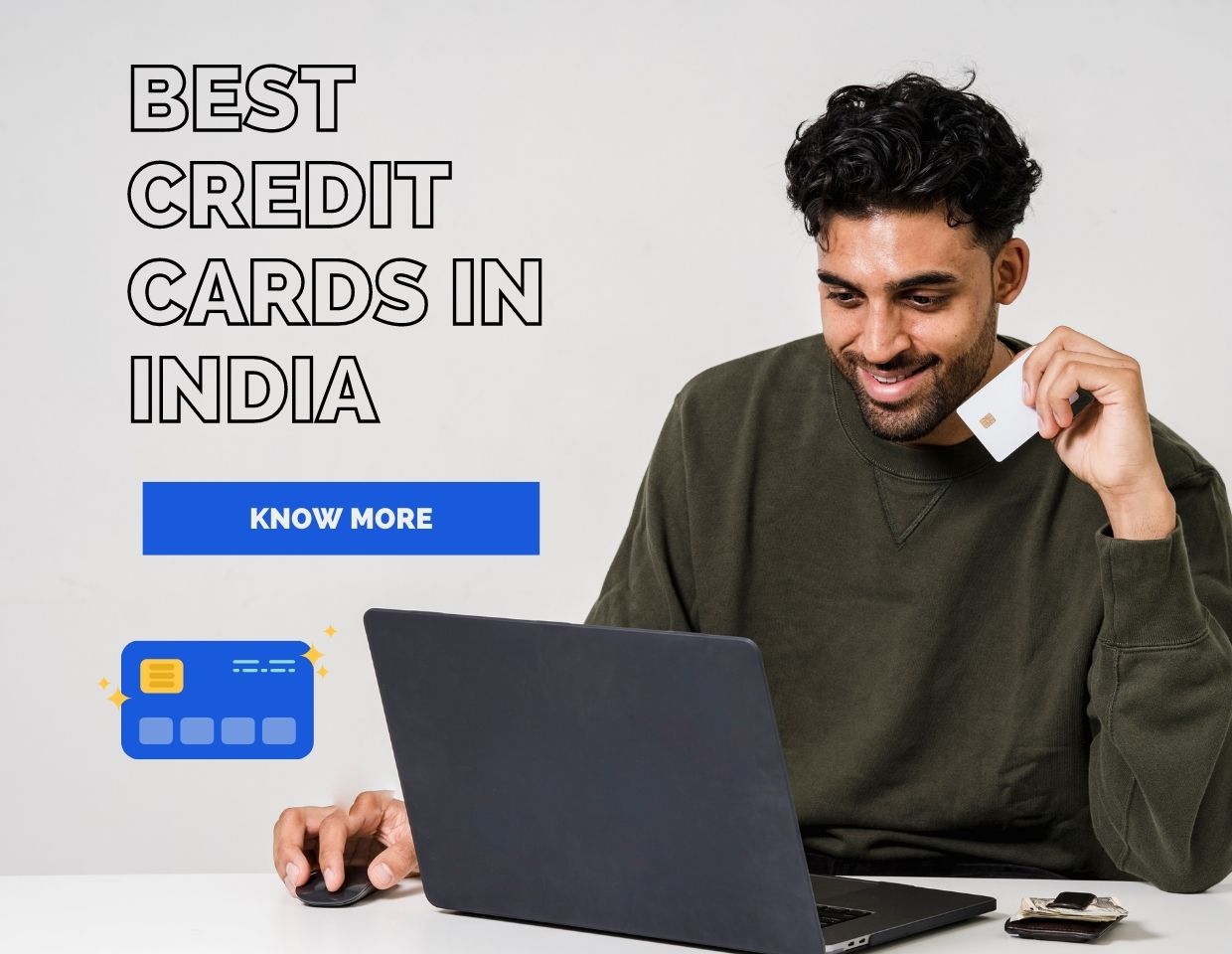 If you are looking for Best Credit cards in India than Congratulation, you at the right place. I am sure at the end of this post you will find out one best credit card which you need right now.
We all know in India, all-Big banks like SBI, HDFC, Canara, Axis, Kotak, and many other Offer credit cards. Probably you don't know but most of the banks have a variety of credit cards which you can buy according to your need.
As we have too many options, we get confused more and more with every option which we see. Which should I pick? What will the best option for me?
When I started looking for my first credit card I got confused, but thanks to google. Just like you, I started researching about the best credit card in India. After researching lots of credit card and comparing them, I bought my first credit card.
Currently, I have 4 credit cards. I have experience of more than 4 years of using a variety of credit cards. I know how to earn cash back from credit card without spending lots of money on bills. Below is a screen shot of cashback which I earned from my HDFC bank credit card in one month.
So, without wasting any time, let's start our main topic of TOP 30 Best credit available in India. I will try to divide the credit cards according to their fees, Cashback they offer, and other benefits which you will get.
But before starting let's find out some important information about credit card which you should know before purchasing any credit card online.
Everything You Should Know About Credit Card:
A credit card is also known as Plastic cash which mainly used when your pocket is empty. You can swipe your credit card during online shopping, in the mall, in cinema, or at any vendor who accepts this plastic money. After a certain period you have to pay, money which you spent in past.
Credit card becomes popular in India after demonetization. Currently, all banks provide a reward point for every transaction done with a credit card. You can avail this reward points with cash or vouchers for online purchases.
Important Tip: if you are applying for a credit card via an online portal than make sure you are using the official bank website for credit card purchase. Many third-party websites use your information for further sale, which ends with too many calls and fraud mail, messages. So, avoid filling personal information on such websites.
All the links provided in my post are genuine and can be used to avoid any extra charges or fee. In return, I will get a small commission by that credit card company for credit card sell. This commission is not included in your credit card purchase fee.
So, let's begin our main topic of finding the best credit cards in India. I am dividing our post into many categories which will help you to find the best credit card for you, according to your need.
Best Lifetime Free Credit Card
If you are an entry-level person in the credit card field then you should start with a credit card which has no fees for annual renewal.
This will help you identify your need after several uses with a free credit card. also, you don't have to pay any charges so you can keep this credit card without any tension of fee for lifetime.
Cards which I mention below have no annual charges, so they give minimum rewards with every transaction.
1. ICICI Amazon Pay Credit Card
If you are a regular user of Amazon than chances of knowing about this credit card is high. In 2018, amazon with a partnership of ICICI bank launched Amazon pay credit card, which is mainly used for online purchase. With this credit, you will get lost of cashback whenever you purchase anything online.
You can apply for ICICI Amazon pays credit card with a minimum document. You need to have a pan card, Aadhar card. you can apply for the card directly using Amazon shopping app.
After the filling application, one of the customer's executives will come to your door for offline verification and take your signature on the document.
Aahaa, congratulation you completed all procedure for ICICI amazon pay credit card. Now, you will get your Credit card within a week via post.
Fee for Credit Card: Lifetime free (Nil)
Amazon Pay ICICI Bank Credit Card Benefits:
No joining fee or annual fee
No limit to the earnings from this card
Not having any expiry date for your earnings
Earnings can be used for purchasing 10 crores+ products at Amazon.in and at 100+ partner merchants.
Amazon Pay ICICI Bank Credit Card Features:
Earn 5% back on Amazon.in for Amazon Prime customers*
Earn 3% back on Amazon.in for non-prime customers*
Exclusive ICICI Bank privileges
Earn 2% back on 100+ Amazon Pay partner merchants by using this card on Amazon Pay *
Earn 1% back on other payments*
15% savings on dining bills at over 2,500 restaurants across India through Culinary Treats Program.
Waiver of 1% on fuel surcharge.
2. HSBC Visa Platinum Credit Card
I already said buying a credit card without an annual fee with low benefits is always better than buying a credit card with high annual charges with more benefits. HSBC Visa Platinum Credit Card is one of the famous free credit card available in India.
The best part of HSBC credit card is it will give you lots of cashback whenever you use. This cashback will be adjusted with your monthly statement.
You can buy HSBC Visa Platinum Credit Card with free of cost. You don't need to pay any annual charges or Joining fee.
Joining fee: Nil
Annual Fee: Nil
If you join HSBC Credit Card you will get 4,250 INR introductory offers as a welcome bounce.
Rewards and benefits:
2 rewards point for every 150 INR you spend. You can redeem cashback points in cash.
5X Rewards on subsequent purchases made after spending over INR 400,000 in an anniversary year up to a maximum INR15,000 accelerated reward points.
You will get BookMyShow Voucher worth of 500 INR if you spend 50,000INR in a calendar month.
HSBC also has a partnership with more than 1000 restaurant. whenever you pay bill using HSBC Platinum Credit card you will get 15% off on dining bill.
Fuel surcharge waiver at any fuel pump across India for transactions between INR400 and INR4,000 (maximum INR250 per calendar month).
Other Additional Benefits:
Zero liability for Lost of credit card
If you lost your credit card, you can block and avail new credit card within 3 days anywhere in the world.
You will also get some insurance benefits which are listed on the official website of HSBC with credit card purchase, please check.
you will get some amazing cashback, vouchers, phone banking services with this credit card.
3. Indusind Bank Platinum Credit Card
I was using Indusind bank Platinum credit card from last 6 year. I also have a bank account in Indusind bank. But personally, I don't like Indusind bank because they don't show all offer and benefits on their website or app. You have to manually search for all Offer on partner websites.
Think which I like about Indusind bank is the Customer support which they provide.
After opening account and purchasing credit card from Indusind bank, you will receive a call from one of the business executives from the bank. He or she will help you with your account and credit card use. Believe me, if you are a beginner then this service will be very helpful for you.
Also, you don't have to pay any annual or joining fee, so you can try Indusind bank credit card, as it is also one of the market leaders in the credit card segment.
Best Lifestyle Credit Card In India
I think if you know how to use a credit card and how to take benefits from a credit card then this section is for you. In this section, I am going to include Best Credit Card in India which is suitable for any type of person.
Here I am going to show credit cards which give the best dining, shopping, bill payment cashback on every transaction but you have to pay a small amount of fee as credit card annual renewal fee or joining fee.
1. SBI Simply Click Credit Card
In India whenever it comes to Best Credit Card, you cannot neglect market leader, Top Credit Card issuer of India.
Out of 100, every 21-credit card is issued by SBI.
I know it is hard to get credit card By SBI Bank but it becomes easy if you have a very good cibil score (750+) or you are having salary account in SBI Bank.
Whenever you use any eCommerce store shop like amazon, flip kart, Goffers, Paytm you will find SBI Bank offer there for sure.
There are lots of benefits of SBI Card which I cannot cover in this post. I need one separate post where I will write an SBI Credit Card review.
Annual Fee (one-time fee): 499 INR
Renewal Charges (Per Year): 499 INR
For a time, we are going to see, some highlights of SBI Bank Benefits:
Extra Benefits: if you are thinking 500 Rs. Is high for SBI Credit card then don't worry you will get your 500 Rs. return When you buy SBI Credit card. How?
We all know credit card is one of the competitive Segment for all banks. They give lots of offers while for new users. SBI credit card offers 500 Rs. Amazon Gift Voucher when you buy SBI credit card. That's means you don't have to pay any fee for credit card indirectly.
As I already said, on every eCommerce store you will see SBI bank in the offer section. Other than this, you will also get 10x Reward point on online spend with exclusive partners: Amazon / BookMyShow / Cleartrip / Lenskart / Netmeds / UrbanClap.
You will get 5X rewards points on online shopping.
If you are a person like me who love to use credit everywhere than SBI Card is giving you the benefit of waiving annual charge if you spend more than one lakh in the subsequent year.
There are a ton of other benefits of SBI Card which you can read on the official website of SBI credit card.
2. Standard Chartered Manhattan Card
One of the best credit cards which I like to share with you guys is Standard Chartered Manhattan card.
In 2018 my friend told me about the standard Manhattan credit card. He uses SC credit every time whenever we go out. He showed me cashback which he gets on every transaction and believe me, he is taking full benefits of credit card in terms of cashback.
You have to pay 999 INR Rs for the first time when you buy Standard Chartered Manhattan card. But you will get 2000 Rs. Bookmyshow Voucher on the first transaction if you use your Credit card within 90 days for any bill payment or purchase.
after that, you have to pay 999 INR Rs every year as renewal charges. But if you spend more than 1.2 Lac per annum than this fee will be waived off for a subsequent year.
Other than this you will also get 5% Cashback at the supermarket and 3x rewards for other expense.
3. Axis My Zone Credit Card
Let's talk about one of my favourite credit card and which I also want to purchase.
At the end of this segment, you will get to know why I love this credit card so much.
Axis Bank provides lots of Offers with My zone credit Card. I have listed some amazing offers which you will get with new My zone axis credit card.
At the starting, you have to pay 500INR for credit card buy which is an onetime fee. But the good thing is this fee will be waived if you spend more than 5000 INR in first 45 Days.
Annual Fee: 500 INR from 2nd Year.
You can read more about fee structure on their official website.
Let see some highlighted offers and benefits provided by Axis My Zone credit card:
You will get 25% Cashback on Movie Tickets if you use MY Zone credit card.
Up to 1000 Off on Myntra as welcome Offer when you use MYZONE1000 at the time of checkout.
Enjoy 1 Complimentary Lounge Access on Airport with your Axis Credit Card.
On spend of 250 INR, you will get EDGE reward which you can redeem.
Earn up to 4000 bounce edge rewards point every year. You will also get 1000 bounce edge rewards for a minimum spend of 30,000 on each calendar quarter.
Up to 25% off at Myntra when you use MYZONE25 axis credit card at checkout
1% fuel surcharge waiver on fuel transaction with Axis bank credit card using within an India.
You can convert any purchase into EMI by contacting Bank.
Highest Dinning out discount up to 20% on partners restaurants in India.
I hope now you understood why I like Axis My zone credit card.
Best Lifetime Free Credit Card In India
1. Standard Chartered Platinum Rewards Credit Card
I am counting Standard Chartered Platinum Rewards Credit Card as the best credit card in India because this credit card is perfect for everyone.
You have to pay 250Rs for application processing which will be waived off if you use your credit card within 45 Days. It is a trick to activate and to push you to use your credit card by the bank. But who cares, we are getting best and amazing offers and benefits with zero fees.
No renewal fees will be chargred from next year if you spend more than 30,000 INR in the subsequent year itself.
Your application also gets approved very easily if you have a monthly income of more than 30,000 INR. And if you are a salaried person then chances of getting approval is also high.
Let see some of the offers and Benefits of Standard Chartered Platinum Rewards Credit Card:
Standard Chartered Platinum Rewards Credit Card can be used for shopping, dining, travelling etc.
For every swipe of more than 150 Rs. You will get 5X Credit card rewards points. For fuel and dinning also you will get 5x Rewards points.
For other uses, you will get 1X rewards points on the expense of 150INR. The best part is, there is no limitation of rewards you can earn on a monthly bases.
15% at dinning with 850 partner restaurants. 25% off on inox movies on selected days.
Other than this you will get too many offers on another Online portal like ola, uber, Paytm which are changing from time to time. Please check the official bank site for more details.
Best Credit Card For Fuel And Other Utility Bills
1. Standard Chartered Super Value Titanium Credit Card
Believe me, I am not a big fan of standard chartered Bank but they have very good credit card offers which you cannot refuse.
Standard Chartered Super Value Titanium Credit Card is one of the best credit cards if you travel mostly using your vehicle and you have to refill your vehicle regularly. SC titanium credit card comes with very low fee of 750 Annually.
You will earn 5% cashback on every payment of fuel. Other than this you will also get cashback while paying any utility bills. Besides this, you can earn 20% Cashback on Uber Rides also.
Best Credit Card For Online Shopping (Exciting Cashbacks)
1. American Express Credit Card
Single Card, Multiple benefits, Name is American Express Premium Debit Card.
American Express Credit Card is an America based credit card company which mainly run their business in the credit card sector. The main income of the company comes from Credit card only, so it must for them to attract new user every year.
You are thinking, why I am telling you all this?
Well to understand why they take 4,500 INR of Annual charges and give lots of cashback in all sectors you need to understand how the company runs.
Well, American Express is only a company who rewards you when you add money in the wallet. The best part is rewards points you can convert in Karat Gold.
First Time fee: 1000INR
Annual fees: 4500 INR.
You don't have to pay 4,500INR for an annual membership if you spend more than 1,50,000 or above with American membership Credit Card in subsequent year.
or 50% of the annual fee will be waived off if you spend 90,000 to 1,49,999 INR by American Express Credit Card.
Offers and benefits of American Express Debit Card:
Earn 1 Membership Rewards® points on spent of Fuel, Insurance, Utilities, Cash transactions and EMI Conversion.
Cashback and offers on all major eCommerce website.
Earn 1000 Bonus membership point when you use a credit card 4 times in a month for more than 1000 of transactions.
2. HDFC Money-Back Credit Card
I know it's never easy to get your first credit card by the bank. This becomes more difficult if you are not a salaried person.
HDFC Moneyback Credit Card is best if you are looking for your first credit card. You have to pay very less amount of fee. And if you spend more than 50,000 in one year than you don't have to pay an annual fee.
HDFC Moneyback Credit Card is best for a person who has a salary less than 25,000 or student, housewife.
HDFC Moneyback Credit Card Benefits and Offers:
Get 4 rewards points on every 150rs spend on online shopping
2 rewards point on other utility bills.,
Enjoy savings up to Rs 250 on every billing cycle with a 100% fuel surcharge waiver.
Spend Rs 50,000 in a Quarter and get Rs 500 worth E-Voucher.
Convert your 100 points in 20 rs.
Best Premium Credit Card In India
Here, I am going to cover only one credit card. The cost of credit will be high, but the cashback and other benefits will be also high as compared to other credit cards.
1. SBI Prime Credit Card
We already covered one SBI credit card in the previous section. we already know SBI is Biggest Market Leader in India.
With the name itself, you can understand why we are taking this credit in the premium section. The price which you have to pay to take SBI Prime Credit Card is 2,999. In return, you will get 3000 worth of voucher.
After the first year, you have to pay 2,999 for renewal every year. With SBI Prime card you can apply for 2 more add on the card for your family member who have age above 18 years.
Benefits and features of SBI Prime Card:
Welcome gift voucher worth of 3000 from any of the following brands: Bata/Hush Puppies, Pantaloons, Aditya Birla Fashion, Shoppers Stop and Yatra.com
You can earn 20 rewards points on every 100 Rs. spent on utility bills.
Mine favourite is Earning e-voucher of 1000Rs. for pizza hut when you spend 50,000 in a calendar quarter.
No annual charges if you spend more than 3 lakhs per annum.
E-gift voucher of 7000 INR of Yatra.com/Pantaloons if you spend more than 5 Lakhs.
Enjoy 20 rewards points on every 100 Rs spent on your birthday.
So, I hope now you decided which credit card is best for you and which you are going to buy. All credit cards are created for different use. Some are best for Online shopping and some are for dinning.
Choose your credit card according to your need, expenses and your lifestyle.
Before you apply for any credit card you should check your eligibility for a card, otherwise, the bank will decline your application.
Credit Card Eligibility Criteria
As I already said eligibility criteria depends upon bank to bank. but here I am going to cover most common eligibility criteria which bank check before giving you any type of credit card.
The first thing which they will check is, are you 18 plus or not. If your age is more than 18 than you can easily apply for any credit card.
But there are some banks like HDFC and SBI who only offer a credit card to a person who is more than 21 Years.
Most of the Bank give a credit card for Indian resident only.
They also check your salaried or self-employed. Salaried guy gets preference over a self-employed guy.
They also check your income per month. After this next thing what they check is your cibil score. If you have a loan with due amount than getting a credit card is not an easy task.
If you are fit with the above criteria than bank asks for personal documents like Pen Card, income proof, Aadhar card and your company's ID Card.
Apply For Credit Card(Best Way)
In the modern era, data is the biggest money. A company like Facebook earn millions and trillions of dollars by selling your data to a third-party website. Whenever you fill data to any commercial website regarding Credit Card query, your data is sold to many third-party banks and sometimes to fake company's which leads to fraud calls, messages and mails.
Also, your important document like Aadhar card, pen card data is now public. The company uses this data for its benefits.
To, avoid this type of frauds always tries to fill, application for a credit card using the official bank website. If possible, you can directly connect with the local branch of the bank but online application is more convenient then going bank.
All the Links in this post leads to the official website of a credit card. You can upload your data and apply for a credit card.
Conclusion
So now time to wind up this post and I hope you decided which Credit card you like the most. If you ask me, I will go with American Express premium Credit Card.
I am using American Express credit from last year and believe me, it is worthy of having it. They offer lots of cashback. Infect almost all online merchants have cashback offer with American Credit card.
I never pay an annual fee for my American Express credit card by using full limit within a year. But believe me, there is no credit card which offers this amount of cashback without any fees.
Standard Charted Manhattan Credit card is also one of the best options if you don't want to pay a high annual fee.
I hope you Like this post. If you have any question regarding any credit card then you can use the comment box. I will try my best to solve your query. Make sure you share this post with your family and friends so that they can also enjoy the benefits of the Best Credit Card in India.