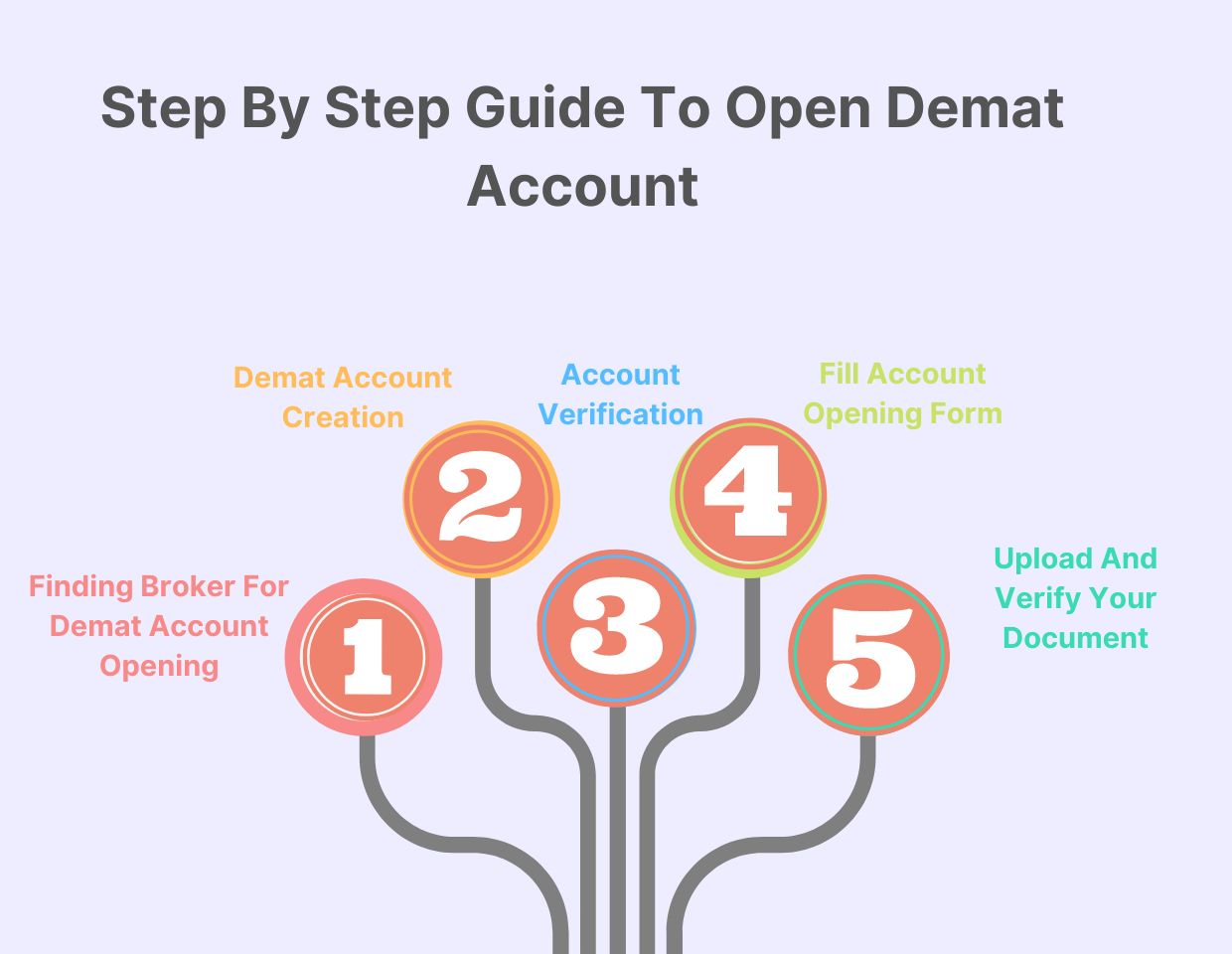 Have you ever wondered what is Demat Account and how to Open Demat Account?
In simple words we can say, Demat account is used for holding, buying, selling of any type of stocks.
Does this mean Demat account is mandatory for any type of transaction in the share market?
Yes, it is mandatory.
Currently, I have more than 6 Demat accounts. I have experience of trading for more than 5 years. In this 5 year, I learn a lot about Demat account and share market.
In this post, I will share my exact 6 steps of the process of opening Demat account.
I will also help you to decide the best Demat account for you. Mostly Trading account opening is now free. Brokers take charges for Demat account. But I will share my links for an account, which has zero cost for Demat account opening.
Open Free Demat Account
You can quickly check 5 steps for Demat account opening here:
Step #1: Find the broker for account opening.
Step #2: Create your account on the official website
Step #3: Verify your email id and Phone No.
Step #4: Enter Personal verification.
Step #5: Upload and Verify your Documents.
So, this is 5 step simple procedure of Demat account opening, which we are going to see in brief in this post.
But before that let's understand some basic key features of Demat account and why it is mandatory to have Demat account.
Page Contents
What Is Demat Account?
Difference between Demat Account and Trading Account?
How to open Demat Account?

1. Finding Broker for Demat Account opening
2. Demat Account Creation
3. Account Verification
4. Fill Account Opening Form
5. Upload and verify your Document
Power of Attorney form

Mandatory Documents for Demat Account opening
Conclusion
What Is Demat Account?
In 1996 Demat account become mandatory for share Buying, selling and holding of shares. Before that shares are distrusted in the form of certificates.
Printing of shares and distributing them with shares holders is the biggest challenge faced by brokers at that time. also holding of shares and keeping it safe for a long time is also a difficult task for shares holders.
To solve the following problem, Demat account is created. Demat is an abbreviation of Dematerialized.
Now holding, selling and buying of shares become an easy task for shares holders. Also, the distribution of shares with clients become easy for brokers.
Now anyone can invest in the stock market using their laptop or mobile within a minute without going anywhere.
I think you have a clear idea of Demat account and its origin. So, let's jump to next sub-topic.
Difference Between Demat Account And Trading Account?
I always find Investors like you gets confused in between Demat account and trading account. They think both are the same term. In fact, in the early stage of investing, I also think both are same.
But the reality is both are different. Use of Demat account and trading is completely different.
The basic difference between Demat account and trading account is, Demat account is used to store your shares and securities whereas trading account Is used to buy, sell stocks from Demat account.
You can relate Demat account and trading with current and saving account example.
When you buy or sell anything from your trading account, your eligibility is verified by trading account. for example, if you want to sell 100 shares of HDFC bank than the trading account will verify with Demat account balance.
If you don't have any sufficient shares in your Demat account than the trading account will reject your request.
When you buy shares from a trading account, it takes T+2 day for settlement. After T+2 it will be updated and store in your Demat account balance.
I hope now you have better clarity of trading account and Demat account. if still, you have any question let me know in the comment box.
How To Open Demat Account?
All-right, now you are ready to open your first Demat account. Also, you have all basic knowledge related to Demat account which is must before account opening.
All the steps are mandatory which I will show here. Also, make sure you enter the correct information in each step to avoid any rejection of an application.
1. Finding Broker For Demat Account Opening
To open a Demat account, finding a broker is mandatory step. Without a broker, you cannot open your Demat account.
The broker will help you to open your trading account. he will also help you to open your Demat account. Many brokers also provide baking account integration with your Demat account. such Demat account is called a 3-in-1 Demat account.
I am a huge fan of 3-in-1 Demat account. with the help of this feature, you can deposit or withdraw your money from the trading account instantly. In 2-in-1 bank account, the same process of money withdraw takes more than 2 business days.
Whenever you buy or sell any shares from your trading account your broker takes some charges as brokerage. This is the mainstream of income for the broker.
Some broker takes high brokerage fee and some provide delivery with zero brokerage.
Also, there are many deciding factors which make Brokers as best brokers. We have shared 9 Best Demat accounts in India. You can check and find the best suitable broker for you.
Here is a list of my favorite brokers in India:
5Paisa: 5paisa is one of the best brokers in India where Demat account and maintenance of Demat account is free for lifetime. Usually, they take 20 Rs/order as brokerage charges. They also have some premium packages for brokerages where charges are as low as 10 Rs/order. If you are a beginner than 5Paisa is the best option for you.
Upstox: If you are looking for a high margin than Upstox is best Demat account in India. They Give up to X20 Margin. Also, Delivery of Shares is free in Upstox. For other orders, they charge 20 Rs/order irrespective of order volume. The account opening is free in Upstox.
ICICI Direct: I already shared why I love 3-in-1 Bank feature. With ICICI Direct Demat account you will get 3-in-1 Account feature. ICICI Direct is number 1 Broker in India. But they have some account opening charges. ICICI Direct Charges 25 Rs/order. They have 3 different type of prepaid brokerage packages which helps to save lots of money on brokerage charges if you actively trade.
Zerodha: When it comes to best Demat account we cannot forget Zerodha. Zerodha is the best discount broker in India. Also, he takes the lowest brokerage charges for every transaction. Currently, more than 15% of Indian traders use Zerodha for trading.
For this post, we will take 5Paisa for demonstration of each step. It's your choice to select a broker from the above given list. All are best for Demat account opening.
2. Demat Account Creation
Now I have selected 5paisa for Demat account opening. Maybe you have selected a different one. But the process for account signup will be identical.
Make sure you use Our link for account opening if you don't want to pay any Demat account charges.
Click here and go to the official website of 5Paisa.
Here you have to enter your basic personal information like Name, Email id and Phone Number. After entering details please enter your Password too.
This password will be used during your account login.
After Entering everything just click on "Register".
3. Account Verification
You will get OTP on your Phone Number and Email Id which you have to enter in this step. This is a mandatory step. After completing the first step you will get OTP immediately to your device. But in some cases, it takes time.
The validity of OTP is 10 Minutes. if you are not able to verify it within 10 minutes then It will expire. You can request for another OTP if it expires or you have not received any OTP.
4. Fill Account Opening Form
Your Account is created successfully if you completed till step no 3. Now you have to activate your account for trading.
The first step during application form filling is Entering your KYC details. Make sure you enter Correct details as same will be verified with your Documents which you will upload in next step.
In the next step, you have to Enter your Address details for account creation.
Here you have to select an account type. For starting you can select first one I.e. free one for account creation.
5. Upload And Verify Your Document
This is the last step which you have to complete for your account activation.
Here you need to upload your document in image or pdf format. After uploading an image of all document just click on process.
Make sure Images are clear and easily visible. I use Adobe Scan application for such activity.
Congratulations you have created your account in 5Paisa. Now you have your Demat account. You are ready to start your investing carrier.
Now What next?
You have created your Demat account. you can now buy and sell shares using your trading account. But wait one more and most important step is still pending.
Power Of Attorney Form
Who will be the owner of your account in case something happened to you? You can decide this simply filling Power of Attorney form.
For Some brokers like Zerodha, it is a mandatory step for account activation. But in Many Demat accounts like 5Paisa, Upstox Power of Attorney form is not a mandatory step.
Without filling attorney form also, you can buy and sell shares from your account.
But Filling Power of Attorney form is Good decision for everyone. This will help to ensure that after you, all the shares and money will go in the right hand.
I recommend everyone to fill their application form for Power of Attorney. You will receive this form in your mailbox after account creation.
If you have not received Power of Attorney application form then drop a mail or contact your broker for application.
After form filling, you can send the same form via courier or mail to respective brokers address.
Mandatory Documents For Demat Account Opening
Make sure you have following documents before applying for Demat account opening.
You can submit the following documents in Image or PDF Format.
Aadhar Card
Bank account Passbook
Pen card
Salary Slip (Not Mandatory)
Conclusion
We have explained every step which you need to follow for Demat account opening. You can choose any broker from the given list which I suggested above.
5Paisa is one of the best brokers from the given list who never charge any charges for account opening or maintains. Upstox, ICICI Direct and Zerodha is also the best option when it comes to best Demat account.
If you are finding issue with selecting the best broker for you then make sure you check our best broker In India post. It will help you to find the best-suited broker for you according to your need.
Which broker do you think is best suited for you and why? Let me know in the comment section.
If you any issue or question related to How to open Demat account then let me know in the comment box. It will surely help you.
Share this post on any social media and show some love.
Cheers!!!