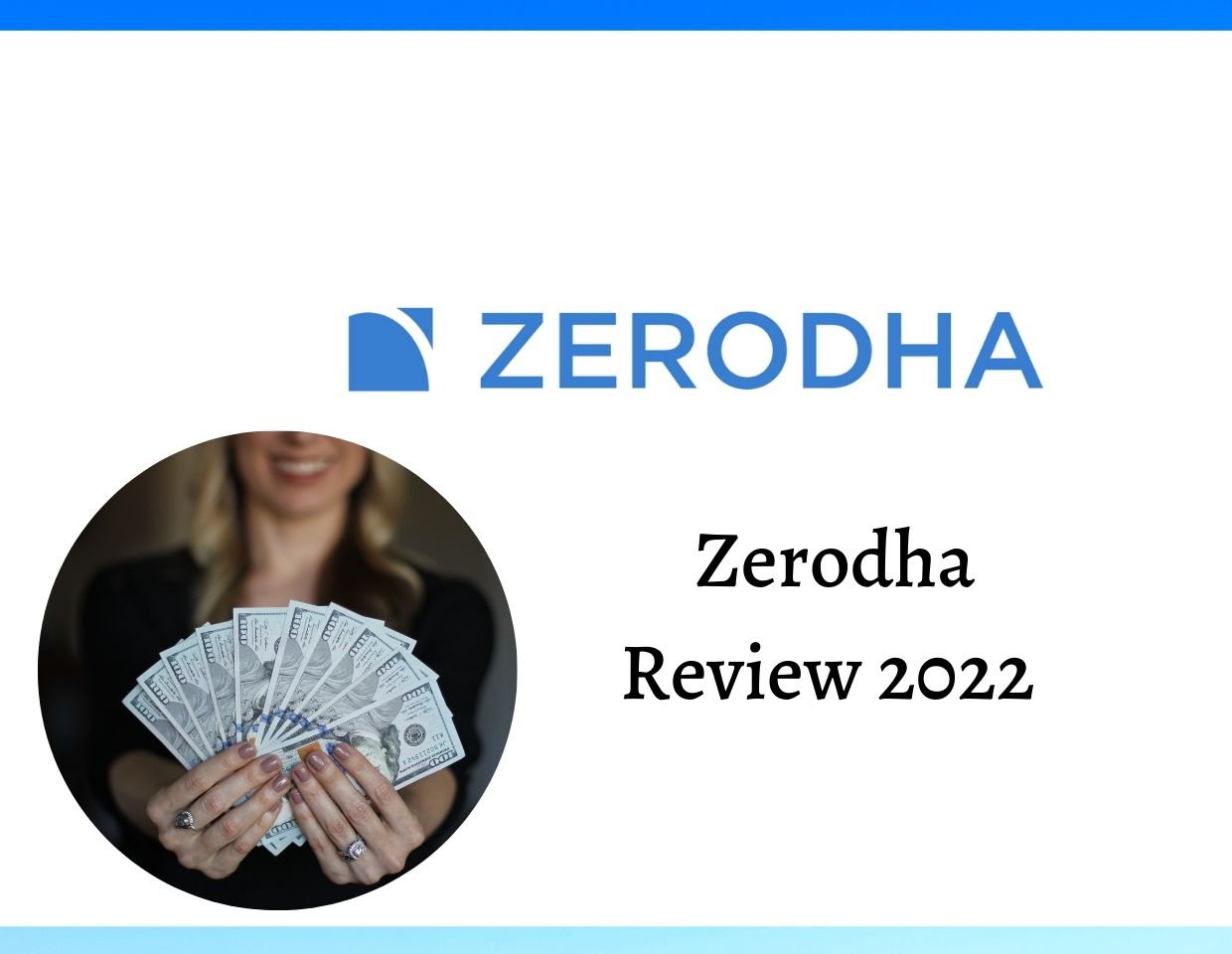 In This post I am Going to Share Zerodha Review based on My Personal Experience.
In 2016 I thought I should also start investing in share market. Luckily one of my class mate has prior knowledge of the share market. He used to use Zerodha broker for trading. So, he suggested me Zerodha as a broker.
By hearing Zerodha I thought it is also one of the Ponzi brokers like zebpay who is a broker in cryptocurrency segment. So, I was a bit nervous as I heard with many people you will lose your all money if you invest in the share market.
I was a student and I have only pocket money as income stream which is fixed every month. I cannot afford to lose my money during college days. So, I started researching on google about the best broker and finally landed to Zerodha as my first and current broker for share market investment.
But at that time on google for Indian broker, you can't find any genuine review for a broker. Also, on current time most of the review on every website is either incomplete or complex to understand for the new person who started just now.
So today I am going to review Zerodha broker and I will try to explain every expect of Zerodha broker in simple words.
Without wasting time let's understood what is Zerodha?
Brokerage
Account Opening and Maintenance Changes
User Friendly
Margin
Research and Analysis
Charts and Other Tools
Customer Support
Mutual Fund
4.2
Summary
Zerodha is one of the famous and safest Broker in india. The Zerodha is biggest Discount broker with Highest Client Base present in india. They Charge Zero rupees for delivery and Max. 20 Rs for other Segments Like intraday and F&0. The User-interface of Zerodha is very easy and Simple in use.Open Account In Zerodha Now
Zerodha Review
Zerodha is the biggest and first discount broker in India, who charge only 20 Rs. Or 0.03% (whichever is low) Per trade irrespective of the volume of share you trade. It was founded in 2010 by Nitin Kamath who used to run an investment-related blog before starting Zerodha. So, he already has prior knowledge about the share market before starting Zerodha.
Now you will ask what is a broker and why I need a broker for investment?
So, my friend, we need a broker who buys and sells our share from NSE/BSE and handles our Demat account. We can not directly go and buy shares from this NSE and BSE regulators.
Therefore, we need some in-between of us and this regulator who works as a broker. Zerodha is also an online broker who help us to buy and sell shares from share market using their platform.
With the help of Zerodha you can trade in the following segments:
Equity
Commodity
Future and Options
IPO
Currency
Bonds and Govt. A scheme like Sovereign Gold Bond
If you compare Zerodha as compare to other brokers you will find fewer complaints about Zerodha by the client. Also, the client base of Zerodha is growing very fast as. Currently, more than 15% of Indian traders use Zerodha as a broker in India which is second highest after ICICI Direct.
Also, Zerodha is a zero-debt company which makes Zerodha safest and reliable broker as compare to other brokers in India.
Zerodha Brokerage Review
Zerodha is safe as it was regulated by SEBI (Securities and Exchange Board of India) and cheap as compare to others.
I am saying cheap because the charges which Zerodha charge is very low as compare to other brokers. You will understand this better by comparison and calculation which I show below with an example.
Let assume you choose ICICI securities, Sharekhan and Zerodha as a broker. We took these 3 brokers' because they are market leaders.
After opening an account with 3 brokers you started trading with 25,00,000 Rs. With 10 trades ever month. Consider, every time you trade you use your whole money for trading that is 25,00,000 wholes. We will take a double amount of charges as we are considering buy and sell for our calculations.
Now we are going to calculate overall charges for each broker after one year.
ICICI Direct charge 0.275% of the charge for each trade. So, considering buy and sell both side the charges will be 0.55%.
So, after one year, the charges will be:
25,00,000*12*0.55%=1,65,000 Rs.
So, we have to pay 1,65,000 Rs. Of charges for one year if we trade with 25,00,000 for one year on the current market rate.
Now, let's consider Share khan who charges 0.1% as a trading fee. So, considering buy and sell both side, charges will be 0.2%.
So, overall total charges will be:
25,00,000*12*0.2%=60,000 Rs.
The amount which will be charges buy Share khan is 60,000 which is more than 2.5 multiple timeless as compare to ICICI Direct.
Now, let's take our discount broker.
As I already said, Zerodha charges 0.03% or 20 Rs. Per trader whichever is low.
After calculation, you will get 750 Rs. As 0.03% of 25,00,000 Rs. So, we will take 20 Rs. Per trade for our calculations.
We will take 40 Rs. Buy taking buy sell for 12 Months for our calculation:
12*40*10=4,800 Rs. Only.
So, if you compare all calculation, we can say Zerodha is best and cheapest as compare to any broker in the market.
Zerodha Charges, Taxes Review and explanations:
Equity Brokerage Review
ZERODHA CHARGES
EQUITY DELIVERY
EQUITY INTRADAY
EQUITY FUTURES
EQUITY OPTIONS
BROKERAGE
Zero Brokerage
0.03% or Rs. 20/executed order whichever is lower
0.03% or Rs. 20/executed order whichever is lower
Flat Rs. 20 per executed order
STT/CTT
0.1% on buy & sell
0.025% on the sell side
0.01% on sell side
0.05% on sell side (on premium)
TRANSACTION CHARGES
NSE: 0.00325%
BSE: 0.003%
NSE: 0.00325%
BSE: 0.003%
NSE: Exchange txn charge: 0.0019%
NSE: Exchange txn charge: 0.05% (on premium)
GST
18% on (brokerage + transaction charges)
18% on (brokerage + transaction charges)
18% on (brokerage + transaction charges)
18% on (brokerage + transaction charges)
SEBI CHARGES
₹10 / crore
₹10 / crore
₹10 / crore
₹10 / crore
Currency Brokerage Review
ZERODHA CHARGES
CURRENCY FUTURES
CURRENCY OPTIONS
BROKERAGE
0.03% or Rs. 20/executed order whichever is lower
0.03% or Rs. 20/executed order whichever is lower
STT/CTT
No STT
No STT
TRANSACTION CHARGES
NSE: Exchange txn charge: 0.0009%
BSE: Exchange txn charge: 0.00022%
NSE: Exchange txn charge: 0.035%
BSE: Exchange txn charge: 0.001%
GST
18% on (brokerage + transaction charges)
18% on (brokerage + transaction charges)
SEBI CHARGES
₹10 / crore
₹10 / crore
Commodity Brokerage Review
ZERODHA CHARGES
COMMODITY FUTURES
COMMODITY OPTIONS
BROKERAGE
0.03% or Rs. 20/executed order whichever is lower
0.03% or Rs. 20/executed order whichever is lower
STT/CTT
0.01% on sell side (Non-Agri)
0.05% on sell side
TRANSACTION CHARGES
Group A Exchange txn charge: 0.0026%
* Far-month contracts: 0.0013%

Group B:
Exchange txn
charge:
CASTORSEED – 0.0005%
KAPAS – 0.0005%
PEPPER – 0.00005%
RBDPMOLEIN – 0.001%
Exchange txn charge: 0
GST
18% on (brokerage + transaction charges)
18% on (brokerage + transaction charges)
SEBI CHARGES
Agri: ₹1 / crore
Non-Agri: ₹10 / crore
₹10 / crore
You can calculate the margin which you will get using our Zerodha margin calculator tool.
Account Opening Charge In Zerodha?
| Type of account | Equity (for trades on Equity, F&O and Currency) | Equity (for trades on Equity, F&O and Currency) and Commodity (MCX) |
| --- | --- | --- |
| Online account | ₹ 200 | ₹ 300 |
| Offline account | ₹ 400 | ₹ 600 |
| NRI account (offline only) | ₹ 500 | N/A |
| Partnership, LLP, HUF, or Corporate accounts (offline only) | ₹ 500 | ₹ 800 |
Other than this Zerodha don't charge any fee for Annual account maintenance for trading account. But you have to pay 300 Rs. For Demat account maintains which is nearly the same for every broker.
How To Open An Account With Zerodha?
Opening an account with Zerodha is very simple. Just you have to follow below-given steps and you will find during new account opening of Zerodha.
1. Click here. You will find yourself on the official website of Zerodha. Click on Singup Button.
2. Now you will find Signup section where you have to enter your mobile number. After entering phone number click on Continue.
3. Now you will receive OTP on you enter mobile number which you have to enter here. After entering OTP Click on Confirm.
4. On next step, you have to enter your email id and click on Continue.
5. Now will redirect to document verification page. Here you have to enter your PAN Card Number for account opening. Make sure you enter right pan card number as it can not be charged in future. Click on continue.
After completing all this step, you have to verify your Aadhar card number and Bank account for Demat account opening.
If you successfully completed all the given step, your account will be opened within 2 days. Make sure you also fill and send Nominee Form which you will get on your mail after account opening.
How To Deposit Or Withdraw Money From Zerodha?
You know the best part of the current era is everything is digital. Now you don't have to go to bank for making deposit or withdrawal of money unless you find any problem with your account.
Same applies to Zerodha also. Zerodha offers your free wallet to deposit and withdraw your money like any other digital wallet.
The best part is it takes a few second to deposit your money. But you have to wait 1-3 days based on bank holidays for money withdrawal. Almost all brokers take the same amount of time for withdrawal as you can withdraw the final amount after the settlement of amount after buying and selling of shares from your Demat account.
Now let's see, how you can add money to your Zerodha wallet?
1. Go to the official website of kite or use Zerodha mobile application for login.
2. We will use the official Zerodha website for a money deposit.
3. After login, click on Funds options presents on the top of the menu.
4. Now you are redirected to your digital wallet. Click on add funds options.
5. You will find one new popup. Where you have to enter all the data like amount, bank account, UPI ID. After entering all details click on continue.
6. Now open your UPI and make payment. After successful payment, you will receive a successful payment notification waiting screen. Make sure you make payment within 5 minutes, otherwise the transaction will be cancelled automatically.
7. After payment you can see, available cash by choosing funds option from the menu.
In the same manner, you can withdraw the amount from Zerodha using withdraw option from the top.
Zerodha Review (Personal Experience)
Personally, I like Zerodha very much. I prefer Zerodha on any other broker because I like the interface and user-friendly nature of application KITE by Zerodha.
Now I will give my review and what I like and dislike about Zerodha one by one.
Zerodha Dashboard
Zerodha Dashboard is very user friendly. When you first time login, you will redirect to Zerodha home page or dashboard.
Here you can watch all your holdings. How they are performing. Amount of profit or loss you are making currently on your holding.
How much you invested now how much is the current market value of that holding with a simple pie chart.
On the left side of the dashboard, you can see MarketWatch list. You can create your 5-market watch list. In each market list you can add 50 companies or shares.
I don't like this feature as you can add limited stock in your watch list. You can only create 5 segments here which is very less if you want to segregate your shares based on performance or sector-wise.
In the holding section, you can find all the holding of shares present in your account. You can also find the amount you invested and the current price of that amount in this section.
Using Zerodha console you can see all other holding and Upcoming IPO.
The best part about Zerodha is, it offers option to invest in IPO. Which is currently not present in most of the new brokers like Upstox.
If we talk about the mobile application of Zerodha i.e. kite is also very simple to use. You can download kite application for mobile from play store or apple store.
All the options and feature in the website and mobile application are identical which make less confusion if you switch your device from mobile to desktop or vice versa.
With Zerodha you can start analysis of technical and fundamental analysis using charts and other strong indicators present in applications. After using serval brokers, I can say Zerodha is best when it comes to chart and indicators.
By using chart view you can find past performance of any stock, how the stock is performing currently etc. Personally, I like to use Night Mode but you can switch in light mode also.
You can also change chart style by selecting different chart type from the top. You will get options like Candle, Bar, Colored Bar, Line, Hollow Candle, Mountain, Baseline and Volume Candle.
How To Buy And Sell In Zerodha?
Buying and selling stocks from Zerodha kite is very simple. Just follow the following steps and buy your first stock from Zerodha broker using kite application.
1. Login in kite application. Search you stock by name in the watchlist and click on add button.
2. Now click on B for BUY or S for sell. On particular stock from the watchlist.
3. Now one small popup window open. Enter all order details. Order type. Price at which you want or sell.
4. You can use other advance feature like stop-loss, Limit order, Bracket order when you start exploring more about Zerodha in future.
Click on the Buy button. Your stock will be bought if the current market price and your price matches.
Things Which I Don't Like About Zerodha Kite
We all know there are two sides of every coin. If you get this much of advantages with one broker then why other brokers are existing?
But the sad truth is our beloved Zerodha have some disadvantages over other brokers.
I have listed all problems and disadvantages which I got after using Zerodha for more than 2 years.
The margin you get with Zerodha is very low as compare to other brokers. Upstox gives you 5X,10X time of margin whereas Zerodha gives you 2X, 3X time of margin. It is very low if you love to trade with high volume. Zerodha provide 5X margin for selected stocks.
During pick trading hour Zerodha server goes down which leads to loses as your order will never get executed. It happened in the current year more than 2,3 time.
Zerodha does not give any live chat support. Also, they don't provide 24/7 call support.
There is no premium plan for a brokerage where you will get an unlimited brokerage plan like ICICI Securitas.
3-in-1 trading account is not available. I think this is the biggest disadvantages which I feel Zerodha have.
Conclusion
Zerodha provides less margin as compared to other broker but Zerodha is very safe. More margin leads to more profit but also more losses too. So, I will never recommend you to go for high volume if you are a beginner.
The brokerage rate is very less which is good if you trade with a high amount of volume. You can save thousands and sometimes lakhs of rupees in the long term. I am using Zerodha from last 2 years and I will also recommend you to use Zerodha. But if you are looking for any alternative than Upstox, 5Paisa and Angel broking is the best option.
If you have any question or doubt with anything then let me know in the comment section. I will surely reply and help you. Share Zerodha review post and help your friends and family in investing.
Cheers!!