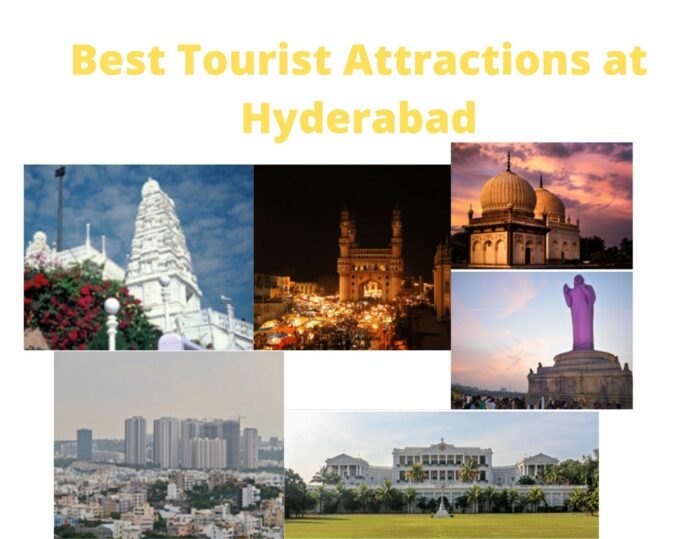 Hyderabad has a great popularity beacuse of the Nizam history,And is hard to disagree when Hyderabad was called as NewYork of india. Whether it's a race lifestyle, a small crowd, modern culture, old traditions, historical sites, or locals, these beautiful places to visit in Hyderabad will take you to the length and breadth of the city, without the hustle and bustle of the city. biryani scenes.Travellers can look forward without doubt to visit the following places if you visit hyderabad.
So,Some must Visit Places in Hyderabad are:
Are you planning to go to Hyderabad? A trip to Hyderabad will be incomplete if you miss these tourist attractions while exploring the rich splendor of the city of Nawabs. From tourist attractions to theme parks, temples to museums, there is much to see in Hyderabad. It offers the experience of all kinds of travelers.
Charminar.
Ramoji Film City.
Golkonda Fort.
Birla Mandir.
Sri Jagannath Temple.
Nizam's Museum.
Charminar:
Serving as a landmark you can look forward to, Charminar is one of the most recognizable buildings in all of India's historical sites. It is definitely one of the best places to visit in Hyderabad for all travelers alike. The history of Charminar goes back to the 1500s. Originally built as a mosque, the glorious Charminar stands as an example of art and architecture in the heart of the city. Also, it is necessary for food lovers to enjoy some of Hyderabad's best food near Charminar. Here are the details about Charminar. This is one of the best things you can do in Hyderabad in the winter.
Location: Charkaman, Ghansi Bazaar, Hyderabad, Telangana 500002.
Visiting Hours: Monday to Sunday – 9:30 AM to 5:30 PM.
Famous for: Famous for its Mughal buildings.
Created by: Muhammad Quli Qutb Shahi.
Built-In: 1591 AD.
Tip: It is best to visit the souvenir early in the morning.
Ramoji Film City:
Have you ever heard that these big surprises come in small packages? Ramoji Film City is sure to live up to that statement. It is not only one of the most popular tourist destinations in Hyderabad but also has the Guinness World Book Record for being home to more than 50 well-equipped film sets in one place. Did you know that before? The ticket price for the town film Ramoji is INR 1150 for adults and INR 950 for children.
Location: Anaspur Village, Hayathnagar Mandal, Hyderabad.
Hours: Monday to Sunday – 9:00 AM to 5.30 PM.
Famous: Famous for being the world's largest movie studio.
Created by: Ramoji Rao.
Built-in: 1996.
Tip: Be sure to go with a group of friends or family!
Golkonda Fort:
Treasure chest of Hyderabad, India's Archaeological Survey considers the Golkonda Fort to be an archaeological gem which is one of the must-visit places near Hyderabad within 200 km. The former capital of the Qutb Shahi Dynasty, the fort now serves as one of the most famous picnic areas in Hyderabad. A masterpiece of architectural art of all time, it is a must not miss this fortress of all the attractions of Hyderabad.
Location: Khair Complex, Ibrahim Bagh, Hyderabad.
Hours: 9:00 AM to 5.30 PM – Daily.
Famous for: Famous for its inaccessible structure.
Created by: Sultan Quli Qutb-ul-Mulk.
Built-in: c. 1512-1687.
Tip: Don't miss the evening show when you visit the castle.
Birla Mandir:
Spreading an area of about 13 acres [13 ha], and perched on a plateau some 280 feet [280 m] high, Birla Mandir is one of the most famous religious sites you can visit in Hyderabad for 2 days. Famous among Hindus and all travelers in the country, it is located on a hill called Naubat Pahad and was opened by Swami Ranganathananda himself who is in charge of the Ramakrishna Mission.
Location: Hill Fort Rd, Ambedkar Colony, Khairatabad, Hyderabad, Telangana 500004.
Hours: Monday to Sunday – 7:00 AM to 12:00 PM; 3:00 PM to 9:00 PM.
Famous for This: Famous for being home to a statue like Balaji in Tirupati.
Created by: G.D. Birla.
Built-in: 1966.
Tip: Since it is a temple, advise you to go fully clothed. Avoid shorts, skirts, and tank tops.
Sri Jagannath Temple:
Sri Jagannath Temple is one of the best tourist attractions in hyderabad.Sri jagannath temple modern temple located in Banjara Hills. The temple was built by the Odia community and dedicated to King Jagannath – the God of the Universe. You will be amazed by the shikhara style pattern of the temple. The shrines here are dedicated to Lakshmi, Shiva, Ganesha, Hanuman, and Navagraha.
Location:It is located at Plot No-1269, Road No 12, Banjara Hills, Hyderabad, Telangana 500034
Hours: 6:00 AM – 12: 00 PM, 5: 00–9: 00 PM.
Famous For:This location is Famous for its annual Rathyatra festival.
Developed by: Kalinga Cultural Trust.
Built-in: 2009
Tip: Be sure to visit near the annual Rathyatra festival.
Nizam's Museum:
You must visit the Nizam Museum in the center of purani haveli,if you are visiting charminar.Gain an understanding of the royal life of Nizam of Hyderabad and how he lived a comfortable life. She will find art objects and essays from her life on display.Nizam is convinced that she knew how to live a life of luxury,which have all luxury items and utensils.This Museum is one of the most famous places in Hyderabad to visit.
Location:This Museum is located at Purani Haveli, Pathar Gatti, Hyderabad, Telangana 500002.
Hours: 10:00 AM – 5:00 PM.
Famous for This: Famous for its collection of items that once served as the last Nizam of Hyderabad.
Created by: Nawab Mir Mahoob Ali Khan.
It was built in 1936.
Tip: Download some of the best reminders on your camera.