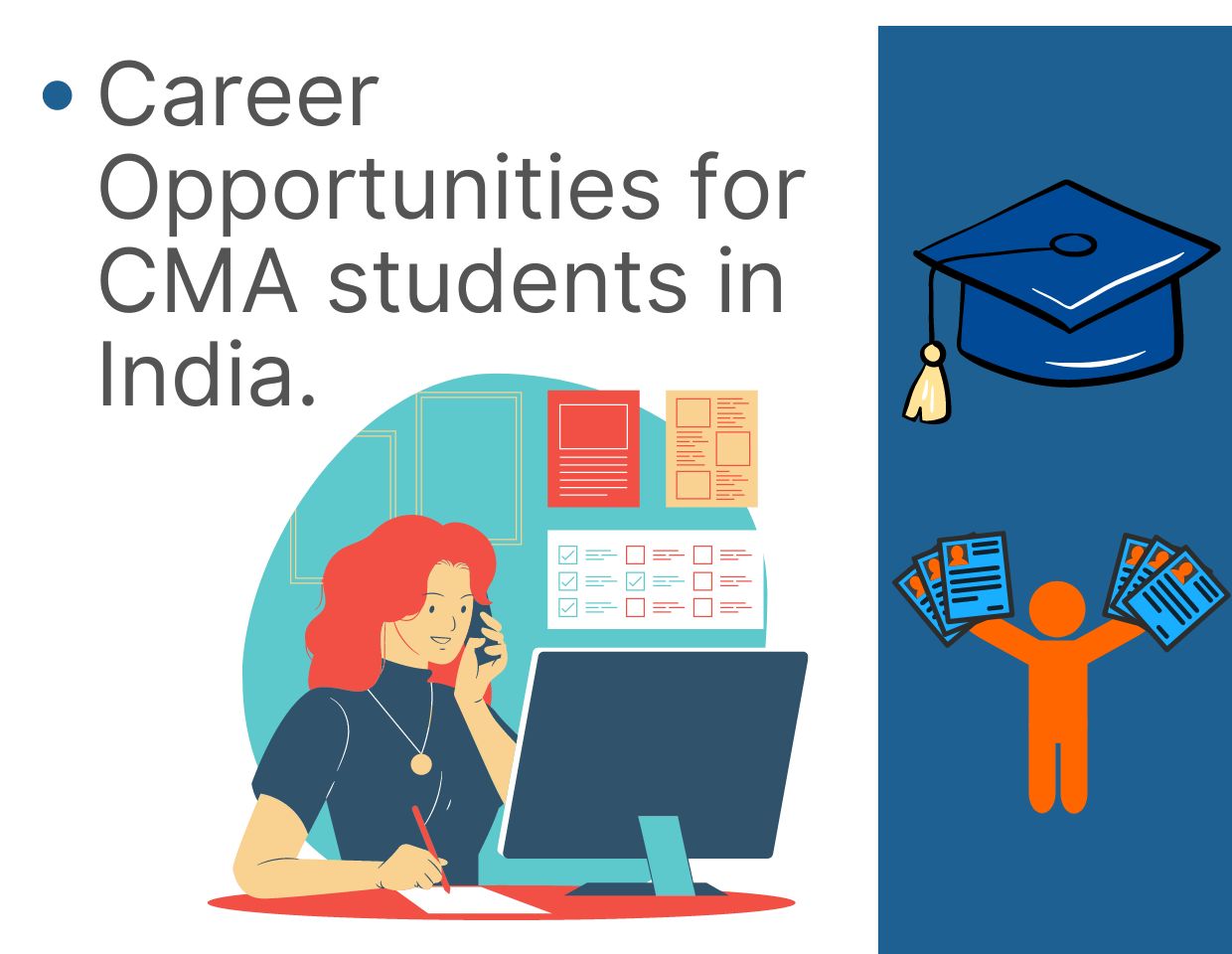 CMA or Certified Management Accountant course is emerging as one of the most popular certificate courses in India. The certificate can be earned in just 6 or 9 months and can be pursued without halting the current studies or job. The CMA exams are conducted online in various parts and once completed; the professionals can venture into the upper echelons of accounting as a career. All the candidates must have mandatory 2-years of experience in Management Accounting for the course. We recommend preparing for the exam at some reputed CMA India Institute in Kerala that is recognized and approved by IMA which is the governing body for the exam. The reputed institutions not only help you in exam preparation, but they also guide you regarding the career options that are the most relevant for you.
When it comes to career avenues, CMA professionals can find exciting, and high-paying job roles all over the world. So, this certification course is perfect for the people that are looking for jobs abroad. However, this doesn't mean that the CMA course is not relevant to the Indian job market.
In the following write-up, we are going to discuss the career opportunities for CMA students in India in-depth. So, read carefully and explore the various career options that you can opt for, after completing the course.
Career Opportunities for CMA students in India
CMA professionals are the major drivers of all types of values in a business organization, such as value creation, value enabling, and value reporting. As their job deals with the most crucial aspects of management and accounting, qualified professionals are in high demand in both – the government and the private sector.
Some of the major sectors where the CMA professionals can find employment are:
Banking & Finance Sector
Public Utility Sector
Developmental Agencies
Education, Training & Research
With a rise in the number of public and private associations in the business world, the demand for CMA professionals has further increased, as these ecosystems have many processes that don't fit in the traditional job requirements.
Further, the new business landscape in India is an extreme hybrid where complex business entities are the norm. With more and more MNCs and their branches opening, with more and more start-ups and SMEs making their way into the modern business scenario, CMA professionals are in high demand.
So, if you think that it is hard to get absorbed in the Indian companies after the course, you are wrong!
CMA Professionals – Pay Scale Overview:
The pay scale of a CMA professional is certainly lucrative and is one of the primary reasons for the popularity of this course. This is one of the highly rewarding qualifications, especially in the times when globalization, outsourcing, FDIs, and off-shore development are playing a crucial role. While the beginners might have to start from INR 500000 per annum to INR 700000 per annum,
The CMA professionals are in high demand in businesses of all types and all scales as they understand finance and accounting like an expert. Hence, they also play a critical role in the growth and development of a business.
What are some of the common job roles a CMA can find?
Though there are a large number of job roles that can be assumed by a CMA, and their names change from one organization to another, some of the most common ones are:
Financial Accounting
Management Consulting & Performance Management
Corporate Finance (M&A, IPO, Share & Debt Issues)
Venture Capital
Financial Planning
Internal Auditing
Financial Analysis
Management and Cost Accounting
Corporate Governance
Information Technology (as applied to accounting)
Financial Risk Management
Financial Accounting and Reporting (Attestation, Taxation, and Auditing)
So, all in all, CMA as a career has an immense number of opportunities in India. We hope that the information shared here proves helpful for all our readers and CMA aspirants. For more information and expert guidance, you can reach out to us in the comment section.
Good Luck!