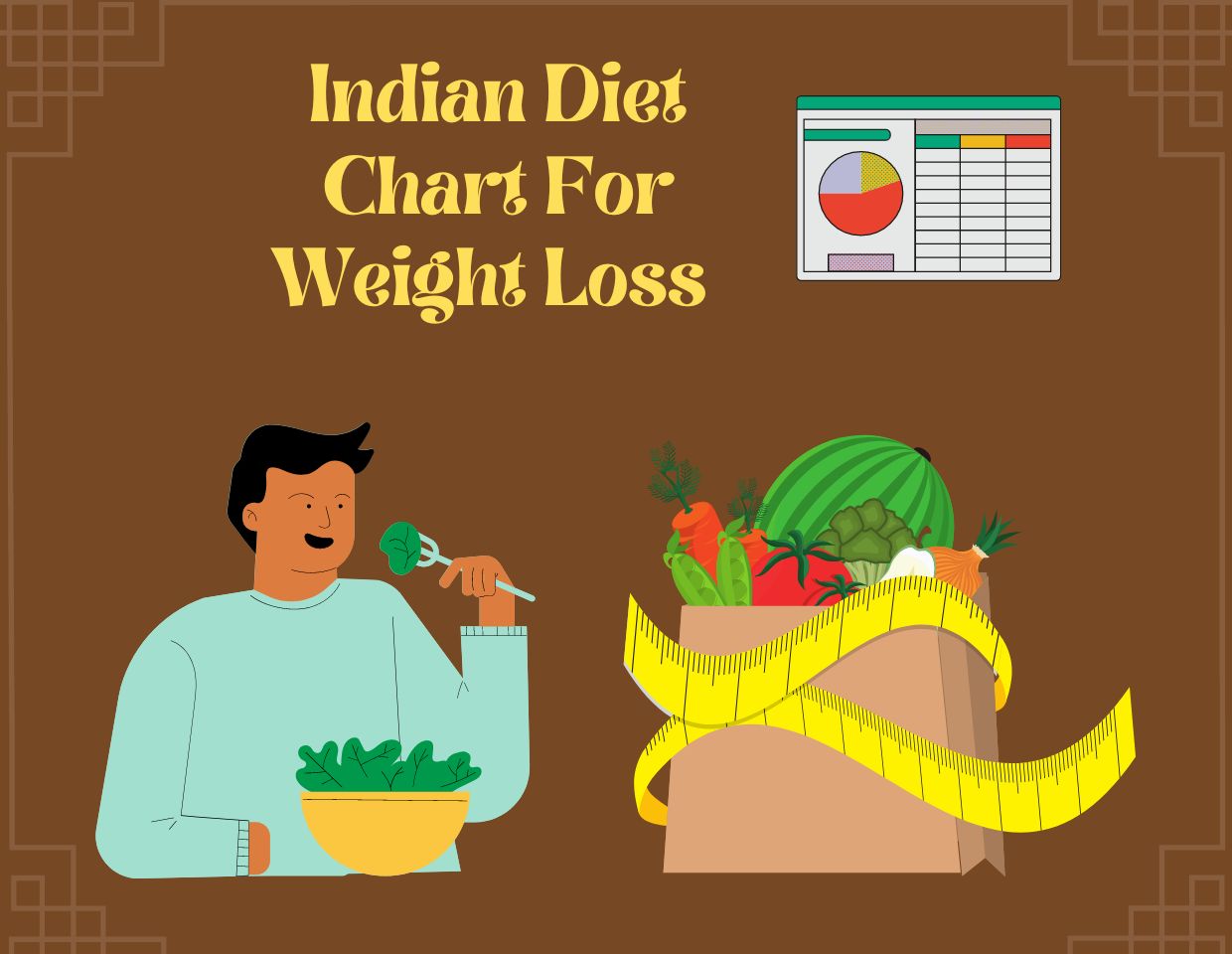 Nothing comes without determination and patience. We see many teenagers go on diets like their favorite stars to lose weight. But due to a lack of proper knowledge and determination often comes back to normal. These crash diets lose weight at a particular level but as soon as we stop them, they prove to be harmful to our entire health as we gain more than we can lose during that time.
Therefore, one should always plan and balance their diet instead of going on a crash diet for some time and then returning to the normal self. Planning a balanced diet full of all the nutrients the body needs such as protein, vitamins, etc. It not only helps in rapid weight loss, but it will also keep us away from various diseases.
And last but not least we should be healthy from within. A person should plan an appropriate diet chart that contains proportional amounts of carbohydrates, proteins, vitamins, and minerals in a daily diet chart. So, let's now see what Indian diet chart a male should follow to lose weight.
1-Day Sample Indian Diet Chart For Male's Weight Loss
As you are searching for the best Indian diet for weight loss or an Indian diet chart for weight loss, you have come to the right place. Because diet has an important role in reducing and increasing body weight. An unhealthy diet or food is the cause of your increasing body weight.
You can also reduce your weight through the Indian diet. All the foods present in nature have their own different effects and qualities. Due to this, some foods can increase your weight and some can reduce your weight. Today, in this article, you will learn about the best Indian diet (diet chart) for weight loss for males.
👉 Early Morning (6:30 am):
Drink a glass of Detox cucumber water as soon as you wake up in the morning.
👉 Breakfast (8 am):
Eat oatmeal and 25 grams of mixed nuts with milk for breakfast.
👉 Mod Morning (12 pm):
Eat 100 grams of skimmed milk cheese.
👉 Lunch (2 pm):
Eat 1 bowl mix vegetable salad.
One bowl of lentils and one bowl of carrot peas can be taken with a roti.
👉 After Lunch Snack (3-4 pm):
One fruit of your choice
👉 Evening Snack (5:30 pm):
Can drink low-sugar tea.
👉 Dinner (7-8:30 pm)
Take a bowl mix vegetable salad.
Eat a bowl of gourd vegetables, a bowl of lentils, and a chapati.
👉 Night Snack (9-10 pm)
A handful of dry fruits
A glass of buttermilk
Tips for Diet to Lose Weight
Losing weight is not so easy. But you can easily do weight loss by following the balanced diet plan. Along with this, you have to adopt some habits, which will help in keeping you healthy.
👉 Eat 5-7 Times a Day
Instead of eating three times a day, eat five to six times a day. Keeping your food at regular intervals does not cause acidity and bloating. If you want to get lean throughout the week, then stop eating junk food in snacks.
👉 Quit Smoking & Drinking:
Quit the habit of smoking and drinking. This affects your metabolism and thus no diet ever be able to help you lose weight. So, when you are planning to lose weight, quit the bad habit of smoking and drinking if you have any.
👉 Drink 6 to 8 Glasses of Water Or More:
To lose weight, drink 6 to 8 glasses of water throughout the day. Remember, the more water you drink, the quicker you will lose weight. Get the habit of drinking one to two glasses of water as soon as you wake up in the morning. Drinking water on an empty stomach helps to lose weight faster.
👉 Always Try To Eat Healthy Snacks:
It is important that you take only healthy snacks to lose weight. If you take unhealthy snacks like butter cookies, chips, chocolates, etc. as your snacks then it is next to impossible to lose weight. So, be very careful while choosing your snacks.
👉 Avoid Late Night Dinner:
Quit the habit of eating food late at night. This is because metabolism is very slow at night, which leads to rapid weight gain. Therefore, the experts recommend eating food till 8 in the night.
👉 Include More Fiber in Your Diet
Increase the amount of fiber in your diet. A person needs at least 15 grams of fiber a day, as it affects your digestion and heart. Oats, lentils, apples, and broccoli, and lettuce are some good sources of fiber.
BOTTOM LINE:
It is not so easy to lose weight, but if you have a healthy goal in mind, weight can be reduced easily. For this you do not have to change your eating habits, just need to take the right Indian balanced diet plan to get fit. You can follow the diet plan we mentioned above. However, it is important that you take the right amount of calories (3000 calorie Indian diet). Along with this, include a maximum intake of fluids and exercise in your routine. By doing this, you will get fit and slim trim in a few months.