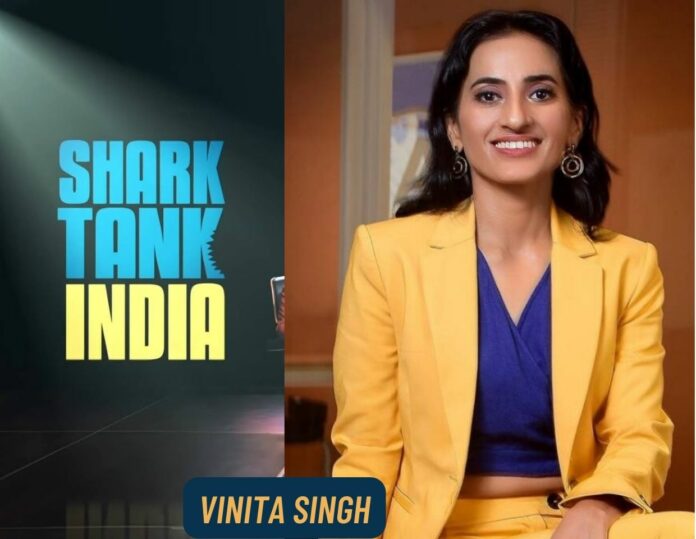 Business is certainly the lifeblood of an economy, and big businesses give boost to the country's monetary upliftment to a much greater extent. Many businesses in today's modern world are seeing both upturns and downturns as well, with a number of reasons and factors attached to it. With India being a country which is home to nourishing minds many businessmen and women have rolled their chance and have become the nation's richest people, with the world of commerce being highly prominent after their name in the industry. And, what can be better than these giants helping people to bloom further? Indeed, with a similar objective in mind and heart, a unique TV show marked its presence in India, after the name, Shark Tank. The show was a house to seven sharks who invested money in the growing start-ups of numerous people.
And, the article revolves around, Vineeta Singh. Wondering, 'Who is Vineeta Singh in shark tank India?' your wait ends here, as given below is a full-fledged, Vineeta Singh Wikipedia. Read it and learn more about the kind, sweet and boss of the business universe, is a self-made and proclaimed business owner, who has her imprints working the best.
Who is Vineeta Singh in shark tank India?
Vineeta Singh is the Chief Executive Officer and Co – founder of the choicest cosmetic brand, Sugar. With a chain of stores in around 130 cities across in the length and breadth of the country. One thing that is the best about the brand is they strive to put forth the best beauty products at a highly reasonable rate. Vineeta Singh net worth is enough to keep anone wonderstruck, the young lady has a whooping worth of around 300 crores, thus, a fortunate individual in terms of monetary requirements. The strong and bold persona quit the chance to have a 1 crore package garnered from an international banking firm, who wished to launch their HR service company, with an aim to do something more fine in her life, and, yes, today the world knows her!
Vineeta Singh in 2020 received "The Economic Times Under Forty Award" for the and she is recognized as among India's most contemporary relevance corporate executives of all time.
Her free time revolves around her fitness routine as she believes that it is a main component for a healthy life, participating in 14 marathons avidly puts forth her thoughts on well-being, being a crucial part of human life. Keen to travel new places, she is a travel enthusiast as well, who loves to explore new places.
About Sugar cosmetics
SUGAR Cosmetics, a generational favorite label, is one of India's quickest luxury grooming businesses. SUGAR is the cosmetics of preference for daring, autonomous women never wanted to be categorized into stereotypes, thanks to its clutter-breaking attitude, distinctive low-poly container, and top-notch goods. The brand deals with all types of cosmetic needs, and is a self-developed brand by Ms. Vineeta. In its fifth financial term, the business made more than 100 crores in sales, thus, achieving a milestone. Vineeta Singh's sugar cosmetics net worth is approximately 750 crores.
Vineeta Singh husband
Vineeta Singh's husband, Mr. Kaushik Mukherjee is her support system in the journey of Sugar cosmetics. And, together the duo has staged great heights in the flourishing industry. An intelligent personality, Mr. Kaushik is too an alumnus of IIM Ahmedabad. She perhaps, stated that with the continuous support and guidance of her husband, she became prominent enough in this line. Vineeta Singh is a proud mother to two sons named, Vikrant and Ranveer, who are still pursuing their secondary education.
Vineeta Singh qualification
Revolving around the saying, Ms. Vineeta believes that good education definitely pays back. She completed her schooling from a reputed chain of institutions, Delhi Public School, RK Puram. Always a bright child in studies, she further took a step forward and enrolled in the most premium foundations namely, IIT Madras and followed by IIM Ahmedabad. Her education paved her way to a successful business life. She has faith that, when we invest in our education, things turn out to be best because, everything an individual undertakes in life pertains their future life and journey. Thus, a highly qualified person, and an education enthusiast she too pursued an internship for a period of 3 months, alongside MBA practice.
Few words about Shark Tank India
The foundation of Shark Tank was inspired by a US television program recognized for its commercialized private equity approach, wherein firms are presented to possible stakeholders. Several other nations, notably India, have now copied the notion, although with a variation. Shark Tank India, an enterprise program in which seven experts, met with dozens of entrepreneurs and their innovative thinking for taking respective businesses to new levels. The assessors engaged in their enterprises after hearing their pitches and analysing their concepts. In exchange, the shareholder received a portion of the equity in the business.
The final takeaway
Shark Tank India, a leading business oriented television show has the capability to turn many individuals into big business owners. Entrepreneurship is not a bright pathway; spikes are also an aspect of business existence. Whatever matters essential, though, is adopting modest measures that will help you attain the personal milestone. When all is packaged collectively, a person's route to victory is more celebrated. Along with prominent executive thumping the floorboards using her knowledge from many elite universities and accolades which guided her route to victory. Furthermore, what the public appreciated best about her was her means of expressing or being so polite. She was wonderful in her encouragement for independent owners. Her activities have proved that females have the ability to grasp any talent if they are mentored or supported.
In a stroke, Vineeta Singh exemplifies how accomplishment may be attained once you are committed to achieving your goal. So, draw up because the strength of your work and effort is what will propel you to fame!